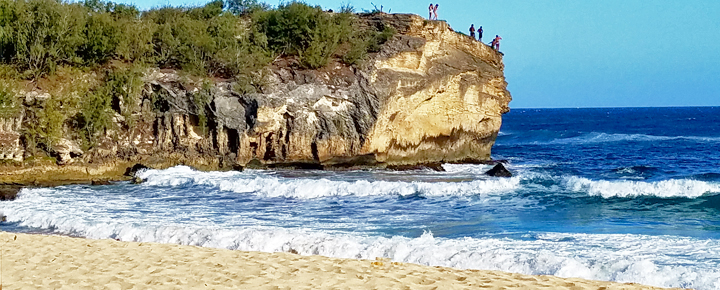 Hawaii beach safety in the news again today. This after Britney Spears, a huge Kauai fan, nearly drowned earlier in August, apparently while swimming at Shipwreck Beach (pictured above) near Poipu.  As you may know, waves are seasonal in Hawaii. Winter-calm Poipu (and all south facing Hawaii beaches) become wave-active in summer and can be dangerous, as was the case here.
Britney said in a radio interview with BBC, "I went to Hawaii a couple of weeks ago. It was beautiful. The waves were like six feet tall. I completely embarrassed myself. I went out and I thought it was like a wave pool, and I thought, this is so nice and refreshing and beautiful, but the thing I didn't think about is when you come back the waves really come in hard and I got sucked under for like five minutes. I almost drowned. And I'm like, Where is my security? They're just going to let me die here. And then I came in again and another wave took me under."
Hawaii beach safety and death by accident in Hawaii is a reality visitors should not ignore. And this can happen to anyone at any beach, obviously no matter how famous you are or how good shape you think you're in. In fact, nearly 150 visitors have died in Hawaii over the past 3 years, nearly half of whom drowned. Other accidents were mostly attributable to hiking and auto.
Hawaii beaches are accessible year-round so you can always find a beach that's suitable for you. This serves as a reminder to all of us, however, to respect the ocean among other dangers while in Hawaii.
Statistically Deadliest Hawaii Beaches
Surprisingly, the deadliest beaches may not be those that first come to mind. Many drownings occur at some of the smoothest water beaches where visitors were snorkeling or swimming.
Hanauma Bay
Waikiki Beach
Black Rock
Kahanamoku Beach and Lagoon
Molokini
Some of the Most Dangerous Hawaii Beaches
The most dangerous beaches in terms of injury but not mortality were:
Makena Beach
Hapuna Beach
Sandy Beach
Brennecke Beach
Laaloa Beach
We saw this first hand recently at Hapuna Beach when people entered the ocean on a day with high surf and red flag conditions. Some people tried to snorkel and were pushed against the rocks as lifeguards came out to help.
Earlier this year, three visitors died in one week. And on average, one visitor dies each week here in the islands.
Hawaii Beach Safety
Hawaii surf conditions and Hawaii beach safety are something to consider at any time of year. Issues can include strong currents, wave surges, and seasonal variations in ocean conditions among others.
Enjoy Hawaii's fabulous beaches while remembering that it is always possible to encounter dangerous ocean conditions. While ocean forecast often changes seasonally, even those conditions can change unexpectedly.
10 Tips to protect yourself from dangerous Hawaii surf conditions on your Hawaii vacation
1.  Minimize risk by being alert to and respectful of the dangers of ocean conditions.
2.  Choose to swim Hawaii beaches which are lifeguard protected. Look for rescue station tubes at many beaches.
3.  Follow Hawaii beach warnings and closures.
4.  Check with a lifeguard if in any doubt.
5.  Watch the water for several minutes to look  for larger waves appearing in groups.
6.  Review ocean safety brochures which are provided in visitor accommodations.
7.  Visit the Hawaii Beach Safety website from the Hawaii Lifeguard Association for very frequent updates on Hawaii surf conditions and warnings for all islands.
8.  Understand rip currents and how to deal with them.
9.  Avoid jellyfish stings – read our 2016 Hawaii jellyfish update and calendar.
10. Don't get caught on wet rocks where unexpected waves can suddenly appear. Look for hidden rocks at beaches.