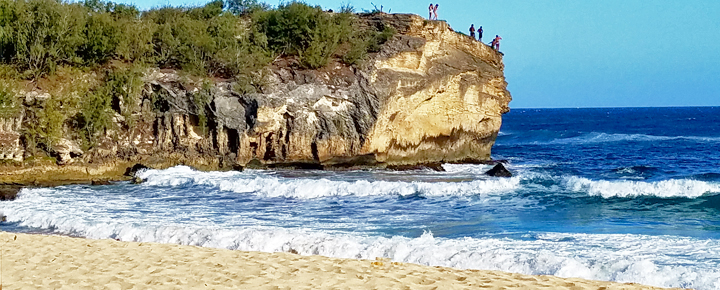 Visitors in Hawaii are drowning at 12 times the rate of local residents. That according to the Hawaii department of heath. This comes to light as a result of the annual Drowning Prevention and Ocean Safety Conference which took place recently in Honolulu. 
Hawaii surf conditions and Hawaii beach safety is something to consider at any time of year. Issues can include strong currents, wave surges, and seasonal variations in ocean conditions among others.
Top 10 Hawaii Beach Safety Tips to protect yourself from danger on your Hawaii vacation
1.  Minimize risk by being alert to and respectful of the dangers of ocean conditions.
2.  Choose to swim Hawaii beaches which are lifeguard protected. Look for rescue station tubes at many beaches.
3.  Follow Hawaii beach warnings and closures.
4.  Check with a lifeguard if in any doubt.
5.  Watch the water for several minutes to look  for larger waves appearing in groups.
6.  Review ocean safety brochures which are provided in visitor accommodations.
7.  Visit the Hawaii Beach Safety website from the Hawaii Lifeguard Association for very frequent updates on Hawaii surf conditions and warnings for all islands.
8.  Understand rip currents and how to deal with them.
9.  Avoid jellyfish stings – read our 2017 Hawaii jellyfish update and calendar.
10. Don't get caught on wet rocks where unexpected waves can suddenly appear. Look for hidden rocks at beaches.
Drownings in Hawaii overall occur at a rate that's 13 times the national average. That too according to the Hawaii Department of Health. In addition, Maui and Kauai have a higher percentage of drownings compared with the Big Island and Oahu.
We've also just learned unfortunately, that prior visitor drowning data was apparently not reported correctly. Deaths may have been listed with drowning a contributing factor rather than as the underlying cause of death. That occurred on Maui but has since been corrected in terms of future reporting.
Drowning can happen to anyone at any beach, no matter how famous you are or how good shape you think you're in. In fact, well over 150 visitors have died in Hawaii over the past 3 years, likely more than half of whom drowned. Other accidents were mostly attributable to hiking and car crashes.
Hawaii beaches are accessible year-round so you can always find a beach that's suitable for you. Remember that seasons can change the surf conditions. For example, if you visited Hanalei Bay in summer you found a mostly calm surface for swimming. In the winter however the surf at Hanalei can go up by 30 feet or more.
Among the Deadliest Hawaii Beaches
Surprisingly, the deadliest beaches may not be those that first come to mind. Many drownings occur at some of the smoothest water beaches where visitors were snorkeling or swimming.
Hanauma Bay
Waikiki Beach
Black Rock
Kahanamoku Beach and Lagoon
Molokini
Some of the Most Dangerous Hawaii Beaches
Dangerous beaches in terms of injury but not mortality include:
Makena Beach
Hapuna Beach
Sandy Beach
Brennecke Beach
Laaloa Beach
We saw this first hand recently at Hapuna Beach when people entered the ocean on a day with high surf and red flag conditions. Some people tried to snorkel and were pushed against the rocks as lifeguards came out to help. Earlier this year, three visitors died in one week. And on average, one visitor dies each week here in the islands.
Remember, "if in doubt, don't go out." We want you to visit Hawaii again and again.
Read: Cheapest Time to Fly to Hawaii for All of Our Money-Saving Tips
Beat of Hawaii photo at Shipwreck beach Kauai.