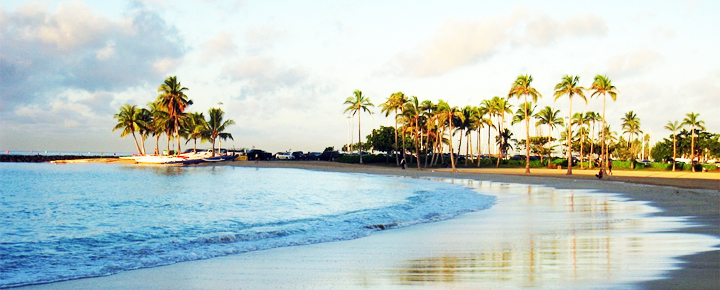 It's time for our annual New Year predictions, so we've dusted off the crystal ball. Beat of Hawaii has been talking about 2018 Hawaii airfare deals and what is about to happen for a long time now. In recent months many other media outlets have joined that conversation. You've probably seen other headlines saying that Hawaii airfare deals are going to be the cheapest ever. That's exactly what we've been saying would happen for years. Following are more specific predictions of what you can expect and why you definitely want to plan a Hawaii vacation in 2018!
Also see the current 2018 After Xmas Sale | Alaska, United, Hawaiian Airlines Deals From $167.
An unprecedented paradigm shift is underway in Hawaii travel.
It comes with a shakeup in competition as new airlines and existing airlines with new fleets arrive on our shores. First and foremost, Hawaiian Airlines has already begun delivery of 18 Airbus A321neo planes. The inaugural flight of the new fleet takes place in less than two weeks.
Some new Hawaiian Air routes using the planes have already been announced. The Airbus 321neo fleet allows Hawaiian to compete head on with Alaska Airlines, United Airlines, Delta Airlines and others on many routes for the first time. Some of these other carriers already use efficient, narrow body aircraft for all but the heaviest traveled routes to Honolulu and Maui. Hawaiian has not had similar planes until now. The new Hawaiian fleet will soon replace both the legacy wide-body Boeing 767 aircraft and the current generation wide-body A330 planes on these "thin" routes.
Southwest Airlines is also re-fleeting with 737MAX that started arriving in 2017. Southwest Hawaii flights have been proclaimed by the company with specific Hawaii route announcements to follow as soon as next month.
Alaska Airlines will also be receiving a longer range 737MAX fleet, which will start arriving early in 2018. Their Virgin America division is also receiving new A321neo planes.
Prediction 1: To all four islands from $200's round trip in 2018.
2018 Hawaii airfare deals will be at or near all-time lows. $149 or less each way is the number we're predicting will prevail in key markets. Cities with heavily discounted fares could include the entire west coast from San Diego, Los Angeles, and Bay area airports, to Portland and Seattle in the Pacific Northwest. These new planes will in many ways benefit the neighbor islands more than Honolulu. The reason is that previously we've had more routes and better competition into Honolulu and Maui.
West coast cities are just for starters. Places further afield including Salt Lake City and Phoenix, for example, are set to benefit as well. On the other side of the country we also expect an easing of Hawaii airfares. Thus east coast to Hawaii routes could start in the $500's off-season.
Some routes may have less than daily service by Hawaiian. Instead they may utilize a model similar to Alaska, wherein certain Hawaii flights only operate 3 to 4 days each week. As a precedent, Hawaiian often operates their JFK nonstop just four days a week.
Prediction 2: New 2018 Hawaii routes.
New flights to Hawaii are springing up rapidly. This month alone, in addition to the latest Hawaii route announcements by Hawaiian, Virgin started San Francisco/Kona, Scoot started Honolulu/Osaka/Singapore, United added a series of flights from five cities, and Delta commenced Seattle/Lihue.
West coast. A wide range of additional routes is possible from Hawaiian Airlines, as well as from Alaska, and others. New routes on Hawaiian may include flights from the Pacific Northwest, Western Canada, Bay Area, Southern California, Las Vegas, and Phoenix, to name a few. We expect San Diego flights to be among the next announcements.
Further east. There is the distinct possibility of additional flights from Denver, Salt Lake City, Albuquerque and/or Texas. Chicago remains talked about as a future route for Hawaiian.
East coast. By removing the need for wide-body planes on the west coast, there are more Hawaiian Air planes for flights to the east coast. New York was a very challenging route to crack for Hawaiian, however, so we'll see if they make a run for any of these in the short term.
International. The A321neo fleet will surely replace the A330 wide-body on flights between Tahiti and Hawaii. We won't be surprised to see some new international routes as well, including someone finally announcing flights between Hawaii and UK/Europe nonstop.
Prediction 3: Southwest Hawaii flights to be announced as soon as January.
Southwest will announce route specifics of their Hawaii flights soon, perhaps even next month! Cities served may include Oakland, Los Angeles, San Jose, San Diego, Las Vegas, and Phoenix. Service on the first of these routes could begin as early as summer 2018, or may come later in 2018. We're awaiting word on completion of their over-water ETOPS certification and other logistics. Read the latest Southwest Hawaii updates.
Southwest Hawaii flights will begin on their 737-800 aircraft and will transition to new 737 MAX 8 and perhaps 737 MAX 7. The MAX 7 brings cities like Denver and beyond into discussion.
Inter-island. Southwest connecting flights are a possible entry point to test inter-island. Thereafter full-on inter-island service is something Southwest says they are evaluating.
Prediction 4: Free Food on Hawaii flights.
Hawaiian has always included free food. Delta recently starting offering complimentary meals in coach. United and American will end up doing the same on Hawaii flights, leaving Southwest as the only company without a food offering.
Prediction 5: WiFi on flights to Hawaii.
Delta offers WiFi on flights to Hawaii, and United and American largely do as well. Alaska is adding it to Hawaii flights in 2018. Hawaiian is the only carrier not to have announced the availability of satellite WiFi over the Pacific.
Updated 12/27/17.