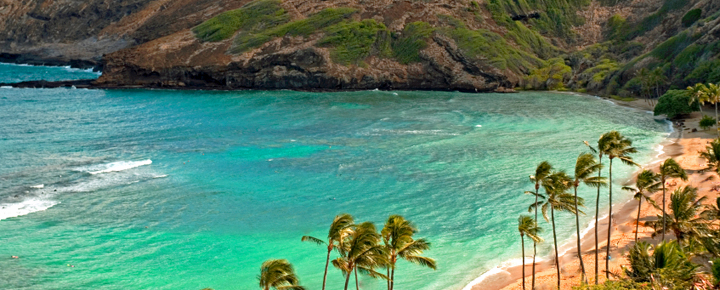 Updated April 10, 2018, 10am. Today we feature more great Alaska Airlines Hawaii deals for last minute spring travel in May. Departure dates listed below. While there are no longer any $99 airfares at the moment, we expect them to return again. So stay tuned for those.
Today's fares are available for purchase right now, although availability and the offers themselves could end at any time. Fly on 20 routes on sale to four islands on limited dates this spring.
Luxurious spring weather in Hawaii, together with fewer crowds, make for an ideal time to visit the islands!
Pamper yourself with longer warm days under the iconic Hawaiian sun. This is among our favorite times of year in the islands. It is also the cheapest time to fly to Hawaii.
Alaska Airlines Hawaii Deals to All Islands
Airline: Alaska Airlines. Check for possibility of competitive pricing on Hawaiian Airlines.
Travel dates: Vary by route but are mostly May 1 through May 23. Not all dates or flights.
Fares and Availability: These are the lowest fares each way in these markets and are not available all or even most dates. Available dates at time of posting are shown below. These will go fast.
How to Book: You cannot call to get these Alaska Airlines Hawaii deals. Online booking only.
Maui Routes on Sale – Mostly May 1 through May 23.
Oakland $189
Portland $189
San Jose $189
Los Angeles $219
Seattle $219
Honolulu Routes on Sale
Los Angeles $229
San Francisco $173
San Jose $189
Oakland $199
San Diego $229
Los Angeles $229
Kauai Routes on Sale
Oakland $189
San Diego $199
San Jose $199
Seattle $228
Portland $229
Kona Routes on Sale
San Jose $179
Oakland $189
San Diego $199
San Francisco $229
Photo at Hanauma Bay, Oahu.