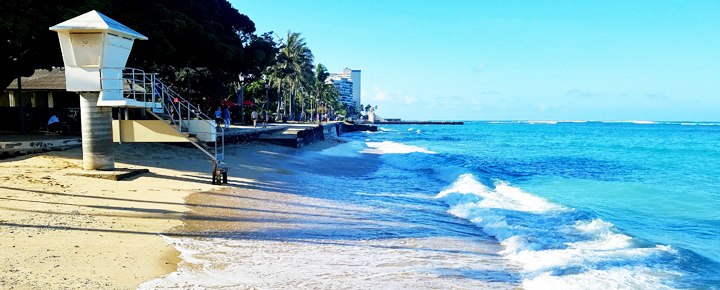 Updated June 19, 2018. Back again, today only, we again feature Alaska Airlines Hawaii deals for late summer and fall travel. All priced from $169 to $219 each way. And while there are no longer any $99 airfares at the moment, we expect to see those return again. So stay tuned here.
In addition, Alaska announced today that it will begin service between Sacramento and Kona starting this December. Flights will operate three times weekly. The new route joins their service between Sacramento and Maui. In total Alaska operates on average 29 daily departures to Hawaii from 10 West Coast cities.
Alaska's new route is in advance of Southwest's soon to be announced service to Hawaii, which to a large degree will target Alaska's routes from San Diego and the Bay Area.
Today's fares are available for purchase today, although availability and the offers themselves could end at any time. Fly on 20 routes on sale to four islands.
Luxurious late summer and fall weather in Hawaii, together with fewer crowds, make for ideal times to visit the islands!
Pamper yourself with warm days under the iconic Hawaiian sun. These are among our favorite times of year in the island and are the cheapest time to fly to Hawaii.
Sale | Alaska Airlines Hawaii Deals $169+
Airline: Alaska Airlines. Check for possibility of competitive pricing on Hawaiian Airlines.
Travel dates: Vary by route but are from August until early November 2018 only.
Fares and Availability: These are the lowest fares each way in these markets. Limited availability, not on all dates or flights. Some routes are much more limited than others.  In most cases cheapest dates are for May/June travel. Slightly more for September to early November travel. These will go fast.
Tip: Try looking for one ways and combining two of those into and out of different islands. Wow, island hoping returns, and for under $300 RT!
How to Book: You cannot call to get these Alaska Airlines Hawaii deals. Online booking only.
Kauai Routes on Sale
San Diego $219
San Jose $169
Oakland $169
Seattle $219
Kona Routes on Sale
San Jose $169
Oakland $189
San Diego $169
San Francisco $169
Seattle $219
Maui Routes on Sale
Portland $184
Oakland $189
San Jose $189
Sacramento $189
Seattle $199
San Francisco $199
San Diego $199
Honolulu Routes on Sale
San Jose $189
San Francisco $199
San Diego $219
Seattle $219
Beat of Hawaii photo at Kokee State Park, Kauai.