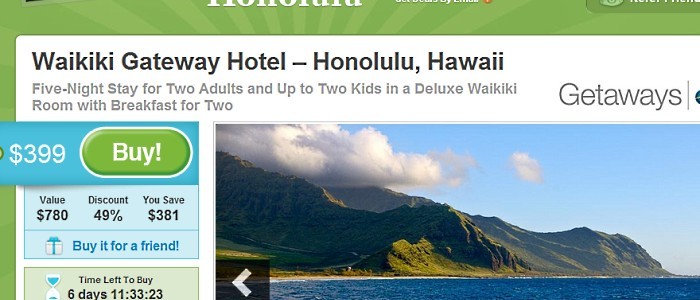 Groupon and Expedia have a deal today for a 5-night stay at Honolulu's Waikiki Gateway Hotel for $399. What I wanted to know were two things. First, was it a good deal, and second, would I want to stay there anyway.
Here are the answers to my questions:
Is it a good deal? Well, not really. I went to the hotel's website and found that I could get the same quad accommodation room for $68 a night, or $342 for a five night stay. Even better, I found a kitchenette room for only $9 a day more, bringing that total to $380. The only difference between the rates is that "continental breakfast" is included in the Groupon offer. I'm not sure exactly what that's comprised of but….
Further, based on what we know, in the Groupon model, the hotel is probably only getting about $40 a night. In my experience, hotels have treated me better overall when I haven't gone through the "deal site" to get the absolutely best price.
How's the hotel?
If you've stayed there, please leave a comment and let me know your thoughts. A quick scouring of the review sites left me unsure as to whether I'd ever want to bed down or not. For my next Waikiki hotel deal, I'm liking the Hawaii Prince hotel for about $85 which I've seen recently on Priceline.