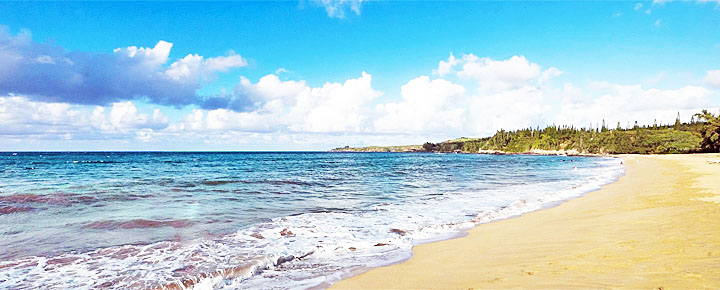 We're always on the hunt for the best beaches in Hawaii. And so are others including Dr. Beach. You can't go wrong at any of the beaches below.
Best beaches in Hawaii – 2018 Dr. Beach
Just two of Hawaii's incredible beaches made Dr. Beach's picks this year.
#1 Kapalua Bay, Maui (image above)
Dr. Beach loves Kapalua and what's not to love. It was his very first #1 pick when he started back in 1991. It was also his #2 pick in 2017.
The beaches that comprise Kapalua Bay are Oneloa Bay, Honokahua Bay, Mokuleia Bay and Honolua Bay. These fine spots have also been featured by the Travel Channel, Conde Nast Traveler and others. You'll find spectacular views, beautiful sand and consistently good swimming. Kapalua Bay is iconic Hawaii.
#8 Hapuna Beach, Big Island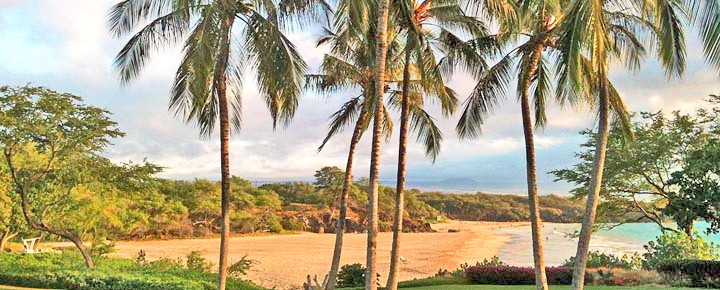 A perennial favorite at Beat of Hawaii, Hapuna Beach simply has it all.
Located on n the Big Island's north Kohala Coast (far from the volcano), it is known for a plethora of consistently good activities including swimming, paddle boarding surfing, sunbathing and snorkeling. At the north end you'll find Turtle Cove, which you're almost guaranteed to see Hawaiian green sea turtles.
Best Beaches in Hawaii – Some of Our Thoughts
Hanalei Beach, Kauai – Beat of Hawaii says, "Hard to be impartial when it comes to this beach. Always beautiful." We'll be filing an updated report soon on Hanalei after recent flooding.
Lanikai Beach, Oahu – Beat of Hawaii says, "Turqoise waters, white sand and post-card views of Mokumanu and Mokolua islands are very nice but the narrow beach and number of people there made us want to leave. The last time we tried we gave up due to lack of parking." 
Kaanapali Beach, Maui – Beat of Hawaii says, "Beautiful stretch of sand spanning three miles. Look out to the ocean and ignore the resorts behind you. Not for those seeking quiet and solitude however."
Maniniowali Beach, Hawaii – Beat of Hawaii says, "Also called Kua Bay, this is one Big Island beach we have yet to visit."
Polihale Beach, Kauai – Beat of Hawaii says, "One of our favorite Kauai beaches received recently proclaimed the world's best secluded beach. We still agree with their choice and returned again and again to explore to enjoy its seven miles of spectacular shoreline with sand dunes up to 100 feet tall."
Wailea Beach, Maui – Beat of Hawaii says, "Always a favorite. Lovely crescent shaped beach on the famous Wailea Beach Walk next to popular resorts."
Waimanalo Beach, Oahu – Beat of Hawaii says, "A beautiful wide beach, popular with visitors and locals, that's a favorite for sports and picnics. The view from the water here looking back towards the spectacular mountains is unforgettable. Featured in the Magnum, PI television series."
Wainapanapa Beach, Maui – Beat of Hawaii says, "Nice stop on the Hana Highway near town and the state park cabins here are a great albeit rustic deal."
Your turn to add recommendations or personal favorites that aren't on the list.