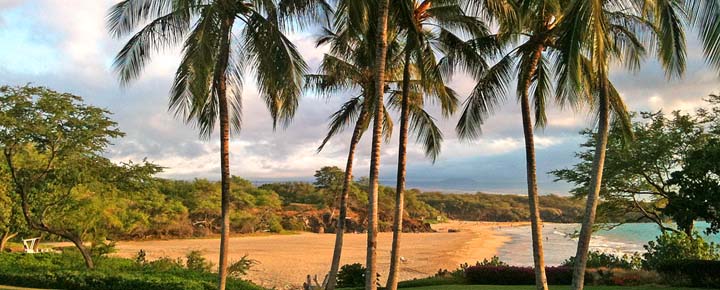 Which are the best Hawaii Beaches? This weekend a national magazine picked one top beach from each of the 30 coastal states. Hapuna Beach was chosen as their favorite beach in Hawaii. It's also been a previous Dr. Beach pick as the best beach in America and a long time favorite at Beat of Hawaii.
We have previously featured this beach that is loved by visitors and locals alike. Hapuna is the Big Island's largest white sand beache and features everything from good state park facilities with camping to a resort tucked at the far end. There are lifeguards too. It's big enough that it all works.
Hapuna is known for swimming, surfing, boarding, snorkeling and sunbathing that are consistently top notch. Do you know about Turtle Cove? At the far end of the beach, near the hotel, you'll see Hawaiian green sea turtles.
Not headed to the Big Island – No Problem.
Hawaii and beaches go hand in hand. When it comes to finding the best Hawaii beaches, there are almost as many choices as there are locations themselves. And in Hawaii, they number in the hundreds. We're sharing a a couple of our other favorites today too. Please add yours to the list!
Hanalei Bay, Kauai.
Hanalei Bay, iconic Kauai is an island favorite and that of travelers worldwide. There isn't much we haven't already said about this beauty that's been featured in films including most recently The Descendants. Follow our guide to Hanalei Bay.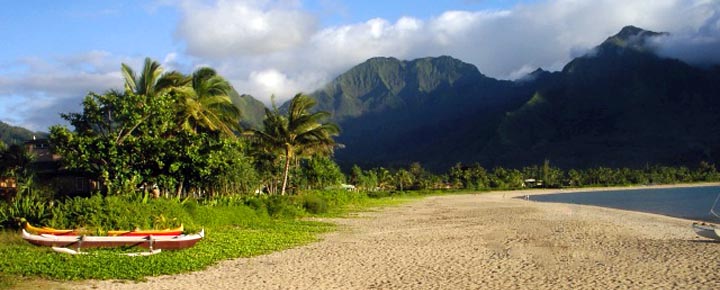 Makena Beach, Maui.
South of Wailea, this is one Maui's best beaches and a great escape when the development at Wailea. It's also a nice getaway when staying to the north at Lahaina and beyond. The beach is long and wide, protected by lava walls. It has great swimming, snorkeling, and sunbathing with terrific views of neighboring Kahoolawe and Molokini.
Lanikai Beach Oahu.
This beach is an iconic gem of Oahu beaches. We've even had those great moments when we had it virtually all to ourselves. On the other hand, the traffic and parking can be maddening on weekends and holidays.