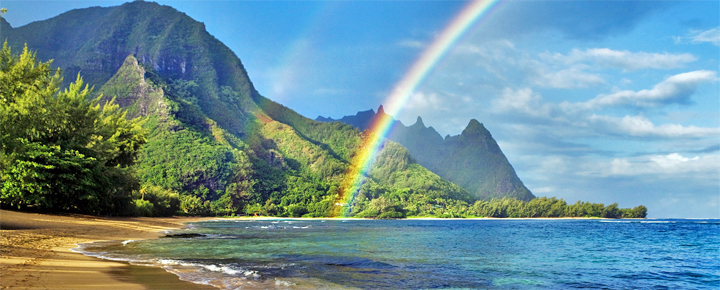 Following are our best tips on when to buy cheap flights to Hawaii when planning a Hawaii vacation during 2017.
1. Decide on your travel season then look below for our suggestions. Each season has peak travel periods requiring a very different approach.
2. How determined are you to take a Hawaii vacation? If you wait and the price target you have in mind doesn't materialize, are you willing to change plans and vacation elsewhere?
3. Do you have flexibility with your travel dates? Day of week and even time of day will in part determine both availability and price.
4. Can you accept a deal that isn't at the rock bottom price? Sometimes the deal that is available now can be the best option. That's true even when it isn't the absolute lowest price, as better Hawaii vacation deals may or may not materialize later.
5. Do you have time to keep watching for cheap flights to Hawaii? Monitoring for the absolute lowest of cheap flights to Hawaii can be quite time consuming to say nothing about aggravating. If you read the comments you'll hear from people who have missed out by waiting.
Winter 2017 low season travel (through March 20). We have already published numerous sales for winter 2017 travel and those will continue throughout the season. This had traditionally been an expensive time of year. Starting last year, however, winter prices became more moderate. That continues to be true for 2017.
Spring 2017 low season travel (April 15 through June 8). While not too early to start watching, we still have not seen too many of these. Airlines are keeping us focused through spring break at the moment. After that we'll see many more spring airfare sales launched.
Spring break and summer 2017 high season travel (March 21 through April 14 and June 9 through August 12). When traveling at spring break and during peak summer, it is best to buy tickets as far in advance as possible due to lack of deals and limited availability. Prices are typically 50% higher than right before or after. Tickets are available 330 days in advance. Travel starting August 1 could see some softening, but that may occur much later, if at all.
Summer/Fall 2017 low season travel (August 13 through November 14 and December 3 through December 14). Fall airfare sales begin in spring and continue through summer and into fall. Availability is good so wait for best deals and typically buy about 3 months in advance.
Thanksgiving 2017 high season holiday travel (November 15 through December 2). When traveling at Thanksgiving, it is best to buy tickets either far in advance or at the last minute. For last minute cheap flights to Hawaii at Thanksgiving, look at early November for last minute availability at the lowest price. Otherwise, the best window of opportunity begins around January 1 each year due to seasonal high demand and limited holiday availability.
Christmas/New Years 2017 high season holiday travel (December 15 through January 6). When traveling at the holidays, it is also best to buy tickets either far in advance or at the last minute. If you're looking for last minute cheap flights to Hawaii for a Christmas/New Years vacation, you should start to look during Thanksgiving week, Black Friday, Cyber Monday and thereafter for any remaining last minute availability. Otherwise, the best window of opportunity begins each year at the end of January for the same reasons as with Thanksgiving. Also note that accommodations and cars will also be challenging at the holidays, and, as with trans-Pacific and inter-island flights, these should be planned far in advance.
Tip: At Beat of Hawaii we have our fishing net out to catch Hawaii vacation deals for you. Please subscribe to our free updates to reel them in first or like us Facebook. Then stay tuned and act quickly on announced availability to save time and money.