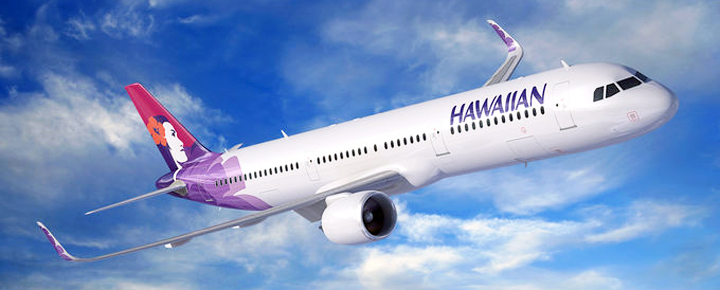 Sometimes new aircraft delays can work in our favor, and this may well be the case here. Hawaiian Airlines announced this week that their new west coast fleet will enter service in early 2018, following a delay related to the new Pratt GTF engines.
"We now expect to receive these three deliveries in the fourth quarter, all but ruling out our prior plan to have them in service before our busy winter peak." — Mark Dunkerley, CEO
Look for Fare Wars on Flights to Hawaii. Hawaiian Airlines had planned to introduce the planes during the peak priced winter holiday season. That would help to avoid low season fare wars when competition and lack of demand already suppress prices.
Similar thinking about flight introduction timing was also demonstrated by Delta Airlines, when they recently announced that their new Seattle to Lihue nonstop will begin operating in high season, on December 21, 2017.
With the delay announced by Hawaiian, fare wars are more likely to break out, which is good news to us and others looking for Hawaii vacation deals.
Get ready for narrow body service from most mainland cities.
Whether we like it or not, single-aisle aircraft are what we can generally expect from all airlines on flights to Hawaii going forward. As Dunkerley also stated, "the new aircraft will free more wide-body aircraft for further long-haul expansion." Flights currently operated by the 300-seat Airbus fleet can be moved to international and other long-haul high density routes.
The ultra popular, 200-seat A321neo, is considered the perfect industry solution for nearly all western US to Hawaii routes. We can't state how important this plane is to the company. The A321 will transform Hawaiian Airlines.
Competition is going to heat up – there's no doubt.
With the new fleet, Hawaiian will go head to head with other airlines currently offering narrow body flights direct to all of the islands. This includes Alaska Airlines, American Airlines, Delta Airlines, United Airlines and WestJet.
Which routes will get the new A321neo.
New routes and greater frequency are an integral part of the new Hawaiian paradigm. Expect to see flights to all islands (no longer just Oahu and Maui) from the Pacific Northwest, western Canada, the Bay Area, Southern California, Las Vegas and Phoenix.  Also possible with the longer range A321neo are Denver, Salt Lake City, Albuquerque, Dallas, Mexico City and more.
New routes for Hawaiian's wide-body planes – we see London calling.
If our predictions are right, first we expect to see more routes Down Under to Australia and also to Asia.
Hawaiian will also be taking delivery of another plane variant, the wide-body A330-800neo. With the addition of those six ultra long range aircraft, we anticipate that Hawaiian Airlines will finally try London to Honolulu. That's good news for those of us here in Hawaii and the many Brits looking for a Hawaii beach getaway.
Photo of Airbus 321neo.