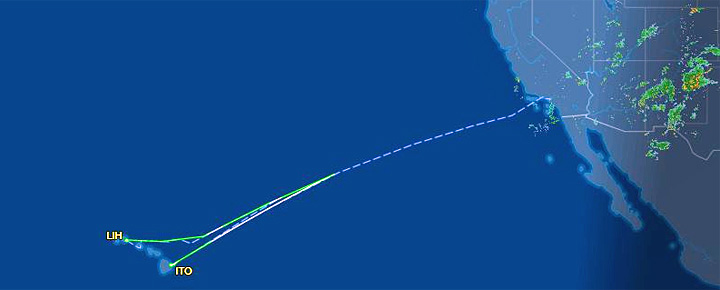 We have some additional details to report. On Friday, 276 people were without doubt very relieved to return to Hawaii under the circumstances. That, the result of a safe emergency landing following smoke in the cockpit reported by the pilot mid way to California.
A very scary situation developed, which is about as bad as our minds can imagine in the middle of the Pacific. The flight was traveling at 37,000 feet and 1,200 miles out of Lihue (1,000 miles from Hilo) when the issue arose. Hawaiian Airlines flight 64 was just shy of half-way to Los Angeles when the pilot initiated the turn around. The plane landed hours later at the nearest Hawaii airport in Hilo on the Big Island.
The 25 year old Boeing 767 aircraft had taken off from Lihue at 330pm, approximately 75 minutes later than scheduled. It then landed in Hilo at 831pm, which was approximately the same time it was due to have arrived in Los Angeles. A replacement aircraft was summoned and the flight continued from Hilo at 122am and arrived in Los Angeles on Saturday morning, 9am.
Kudos to Hawaiian Airlines.
Hawaiian has a great safety record and the company has never had a fatal accident or the loss of an aircraft since they began flying in 1929.
Note: Hawaiian Airlines is set to retire its entire fleet of 767 aircraft by 2018 upon arrival of their long anticipated Airbus A321neo planes.
Image courtesy of FlightAware.