Even when you don't have beautiful Hawaiian flowers like those pictured above, you can still make a Hawaiian lei. These lei are made around a large (or any) plastic (or metal) straw or tube. It's a great project, inexpensive, and makes a fabulous and long lasting gift of Hawaiiana. It's a good way to pass the time while waiting for the next Hawaii travel deal.
Any craft store will have these five items to get you started:
Thick, sturdy, drinking straw
Multi-colored "feather" yarn (you can use several and mix colors)
2 yards Grosgrain ribbon (3/8 inches)
2 Kukui Nuts or Large Beads
Large eyed needle

First, Prepare the Ribbon:
Cut the ribbon to size (about 22 inches) and add another 24 inches.
Feed ribbon through straw, pull out 1.5 inches, and tape to straw.
At the ribbon's other end, tie a knot 12 inches from the end.
Second, Prepare the Yarn:
Take the end of the yarn and tie to bottom of straw (leave 2 inch tail).
If you use more than one yarn, hold all ends together and tie to bottom of straw.
Third, Start Wrapping and Make A Lei:

Hold the straw in one hand and the yarn in the other.
Wrap the yarn around the straw, keeping even tension.
After 8 times around, slide yarn off the straw and onto the ribbon.
Always leave some yarn wrapped on straw until you're through.
Keep wrapping and sliding yarn onto ribbon.
You're through when it's the desired density and length.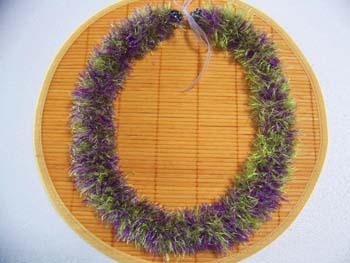 Fourth, Tie the Ends and It's A Lei:
Slide all yarn off the straw and tie a knot on the ribbon; trim excess.
Remove tape that holds the ribbon on straw.
Slide ribbon out of straw.
Squeeze yarn so there is an even thickness.
Knot the beginning to the lei securely and trim off the tails.
Slip a kukui nut onto each end (use a large eyed needle) and tie several knots to secure the kukui nut on lei.
Trim the ends of the main ribbon at an angle to prevent fraying.
Tie the ends together into a bow and your lei is ready.
---