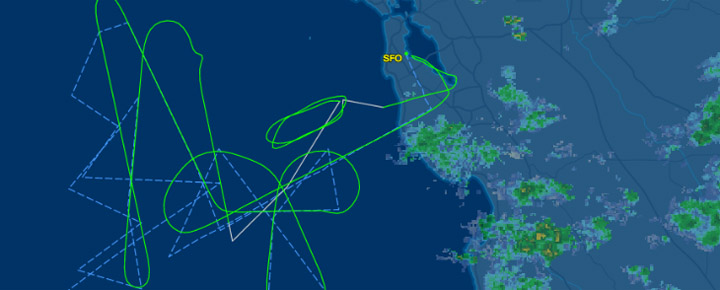 How an airline handles flights normally is one thing. But how they handle it when problems occur speaks to their character. Read to bottom as we just updated this with additional information from those onboard.
We first heard about this flight to Hawaii last week from a friend of ours Stan. He and his wife Sue had the unfortunate experience of being on this 4-hour flight to nowhere in which a planned 5-hour flight ended up taking 14 hours.
Flight to Hawaii Gone Wrong!
The event took place last Tuesday on United flight 1111 which flight to Hawaii was leaving San Francisco for Lihue when the problem occurred. Shortly after take-off, the pilot notified passengers that they would need to return to San Francisco due to a problem with the plane's auto pilot which could not be engaged.
In order to return, what often happens next is dumping fuel to reduce the landing weight of the aircraft. Unfortunately, that's when another problem began to surface. A 757 is not able to dump fuel and thus it had to be burned off prior to landing. In addition, the plane was largely stuck in a storm. For four hours the flight circled and bumped endlessly. Passengers became ill with many vomiting and it was a bad and scary situation. Above photo of crazy flight pattern courtesy of flightaware.com.
As United and our friends all pointed out, when the plane finally landed safely at its starting point in San Francisco, drink and meal vouchers were provided. Stan said they were offered $10 per person! (Read on for update on this).
The company then sourced another aircraft. After some additional delays, the flight that normally arrives at about noon, landed on Kauai at about 9pm.
Were you also on that flight or do you have any similar flight gone wrong stories to share?
Update: We just spoke with Sue (Stan's wife) who had some important additional information to share.
1. On the flight, no compensation was mentioned.
2. When they returned to SFO, they were told they would take off again at 445 pm.
3. After they scrambled for food and had finished eating, they returned to the gate. There they found free bottles of water and if you went to get water you learned about the $10 vouchers (too little too late we'd say). Communication was not great.
4. The replacement flight was also late, in part because a new crew was required due to the length of time that had already passed in relation to crew rest rules. Then there was no crew for the tug to push the plane back.
5. Lastly, no compensation was offered on the replacement flight in terms of free drinks or anything else. At end of trip they were told to look for an email from United – that was extent of customer service. An email arrived subsequently with a choice of $200 travel certificate or free miles.
6. At Lihue passengers had waited at the airport all day (some 14+ hours).