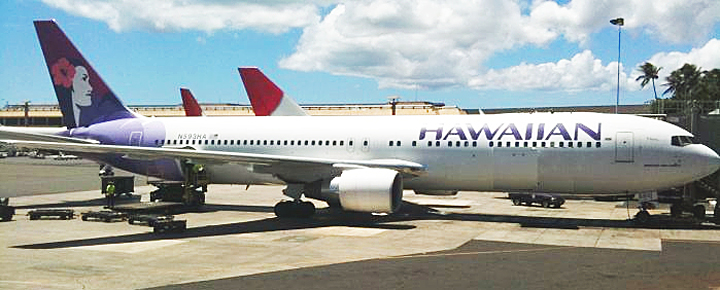 We were excited to see a new opportunity to earn Hawaiian Miles. If you're Hawaii-centric, like we are, these come in very handy for things like Inter-Island and Trans-Pacific flights. Hawaiian Airlines partnered with a company called SSI and created a program, Opinions Take Flight, in which members earn award miles by taking part in surveys.
Sign up for 350 Hawaiian Miles
The press release indicated that the initial reward for signing up was 350 Hawaiian Miles. Not bad – that's worth $3.50 in an honest evaluation of what miles are worth nowadays – one cent each.
What we found, however, was that the signup process itself was not simple and straightforward, but rather a series of many questions including some quite personal. As we later learned, this initial survey was used in part to determine how many miles we would receive for future surveys. In total it took about 15 minutes, which came to a value of $14/hour. Fair enough, we weren't expecting to get rich on this.
Subsequent Hawaiian Miles' surveys offered
There was somewhat of a disappointment when we were offered the next survey because it was only for 60 Hawaiian Miles and 10 minutes of work. That occurred immediately after the signup, although later survey opportunities are received via email for your consideration. Back to the calculations, that means 60 cents or $3.60/hour. Not so good. The better news however is that it was possible to actually finish the survey in under 5 minutes. So, well, that was $7.20/hour.
Here's another gotcha to be aware of. When you go to take a survey, you may receive a message that states: " Take this 10 minute survey by clicking the "Start Survey" button. In the event you do not qualify for a survey, you will receive 5 Hawaiian Miles for your participation. The pre-qualification part in itself isn't that fast and we haven't completed enough surveys to know how many we will be accepted for and how many we will not.
Examples of questions we had are: "Which of the following stores, if any, have you shopped at in the past 12 months, which of the following methods of obtaining health insurance coverage have you used in the past year and which of the following do you own" You get the idea.
In the end we aren't sure if we will keep going with this or not. What about you?
Note that Award miles will be directly deposited into your Hawaiian Miles account and can then be redeemed for air travel, car rentals, hotel stays and shopping.
"We are extremely excited for our Hawaiian Miles members to experience the Opinions Take Flight program with SSI," said
Char Oshiro
, senior director for Hawaiian Miles, based in Honolulu.  "In our continuing effort to offer new opportunities to earn miles toward travel-related services, this relationship with SSI will be a first for Hawaiian Miles.  We have great confidence in SSI and its team.  They have built a fantastic reputation as the world's largest multi-mode sample provider to professionals around the globe seeking insights."