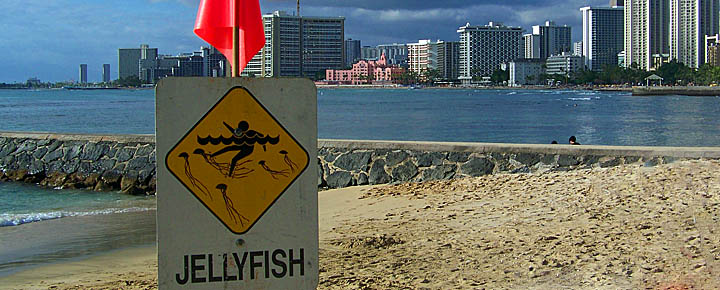 Plan a "sting-free" Hawaii vacation with our updated 2014-15 calendar of Hawaii Jellyfish caution dates.
South facing Hawaii beaches are most impacted by jellyfish eight days after a full moon. These include Waikiki, Ala Moana Beach Park, Haunama Bay and the Waianae Coast on Oahu. Kauai can have warning signs posted at Poipu Beach.  Maui beaches and Big Island beaches are also affected but typically have fewer problems.
Here in Hawaii, jellyfish types include the box, moon and lagoon varieties.
Jellyfish Tips
Awareness. Check with a lifeguard for sure and look for jellyfish washed up on the sand as an indication of a problem.
Timing. You'll usually find jellyfish on impacted beaches eight days following a full moon. The problem can persist for three days. If you're here during a jellyfish invasion, talk to the lifeguard for advice.  Also check the beach to see if any jellyfish have washed ashore.
If you are stung, there's good news below. There is much ongoing research in the area and the University of Hawaii has a new topical treatment in the works for a jellyfish sting. Jellyfish have long been a problem in Hawaii and they only seem to be getting worse.
2014-2015 Hawaii Jellyfish Sting Caution Dates
While jellyfish stings can happen at other times, these are the most likely dates when problems may occur.
2015
May 12 to 14
June 11 to 13
July 10 to 12
August 9 to 11
September 7 to 9
October 6 to 8
November 5 to 7
December 4 to 6
Jellyfish Treatments
The University of Hawaii has devised what may be the first effective topical treatment for jellyfish stings. When one of its researchers was stung badly fourteen years ago she began studies which have now yielded an effective treatment. While not available yet, patents for the gel have already been applied for.
In the event of a jellyfish sting do the following:
Seek medical attention as soon as possible if in shock.
Rinse the site with vinegar to deactivate the toxins and help remove the remaining tentacles and nematocysts.
Use hot water or ice packs to reduce the pain duration and intensity.
Have you been stung by a box jellyfish and if so what has worked in terms of treatment? Please let us know in comments below.
Beat of Hawaii photo at Waikiki Beach.