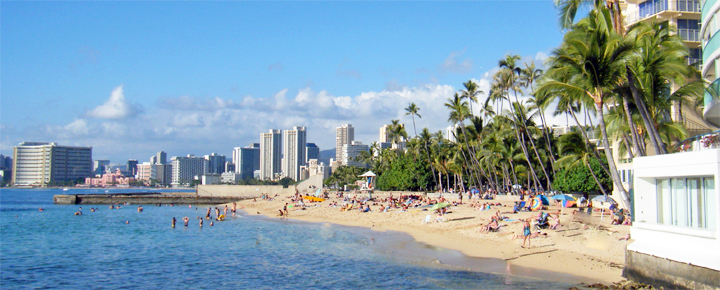 A new round of spring 2017 deals announced today, February 22 with some routes reduced by up to $50 each way compared with the previous sale. Also the duration is now from February 27 through May 25 with some limitations.
We scoured these and found a number of cheaper fares listed below, compared with what Hawaiian Airlines is promoting. The difference is that airlines are required to post fares with a certain degree of availability. We look for "pukas" of cheaper opportunities for select dates. We're excited to see these prices reduced between February 27 and May 25, 2017. Book by February 24 and read on for details.
Spring is always a great time to visit Hawaii from the mainland and good prices today make that possible when flying to Oahu and Maui. Book now for best availability. We also expect to see many more spring airfare sales upcoming, so get our free email updates. If you are ready to lock-in dates, the time to act is now.
Travel and purchase dates: Book by February 24, on Hawaiian Airlines and travel from February 27 through May 25, 2017. Lowest fares are Monday through Thursday only. Travel can commence either on the mainland or in Hawaii. Blackout from March 13 to April 14 to Hawaii and from March 14 to April 20 from Hawaii.
Fares and Availability: Prices below are each way, include all taxes and fees. Some of these can also be bought just as one way. These are the lowest fares offered and are not available on all or even most dates/flights. Use the monthly fare calendars to find seats, availability and best pricing by month. If you no longer find fares listed, they have been become sold out.
Notes: If you can't find dates that work for you, we'll have more spring airfare sales soon. Please sign up for our free email updates and catch the latest Hawaii travel deals when they happen.
Airlines: See links below or go to Hawaiian Airlines. Also check Alaska Airlines and Virgin America for competitive fares on many routes.
Honolulu Deals
Maui Deals
Oakland, San Francisco or San Jose $198