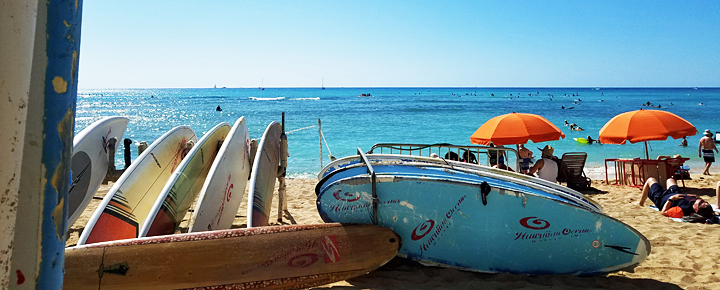 The season for Hawaii airfare sales is definitely upon us! Hawaiian Airlines deals today include all islands – plus flights to Kauai are only $178 each way until Spring!
Great deals for travel from January until early December, depending on route. Most deals and these extended dates remain unadvertised by the airlines.
Again we note that the neighbor islands are getting more of the action. That resulting from upcoming competition as Hawaiian Airlines introduces its new A321neo aircraft. The game changing fleet began service last Monday, and Beat of Hawaii snagged seats. Read our Hawaiian Airlines A321neo trip report. We've already got some tips on how to get the best ride on these new planes.
Prices below updated as of Tuesday, 1/16 at 2 PM HST, and are available for purchase at time of publishing. See lined-out prices for prior sale price comparison. Then travel on 15 21 routes for less than $200 each way, and on a plethora of routes to all four islands. Available dates vary greatly by route. Some are winter only, others are valid until or only in spring, and another significant group is valid until December 2018 (holidays, spring break and summer excluded).
21 Routes Under $200: Alaska, United, Hawaiian Airlines Deals $178+
Travel and purchase dates: Book immediately on Hawaiian Airlines, Alaska Airlines, and United Airlines. Availability varies by route. For the most part, best fares are available Monday through Thursday only. Travel can commence either on the mainland or in Hawaii. There are no blackout days per se but travel over holidays, spring break and summer is not included.
Fares and Availability: Prices below are one way, include all taxes and fees. These are the lowest fares offered and are not available on all or even most dates/flights. Some routes are only on sale one or two days per week or less, so use Hawaiian Airlines monthly fare calendar to find availability and best pricing by month. If you no longer find fares listed, they have become sold out as some availability is very limited.
How to Book: Use links below or go to Hawaiian Airlines, Alaska Airlines and United Airlines. Online booking only (no, you cannot call the airlines for these prices).
More Help: The Cheapest Time to Fly to Hawaii contains most of our tips and tricks. If you don't find the deal or dates you are looking for, sign up for our free email updates for many more sales ahead.
Honolulu Deals
San Diego $198 on Hawaiian Airlines and $198 on Alaska Airlines until April
San Jose $183 $179 on Hawaiian Airlines and $178 on Alaska Airlines until April
Oakland $213 $178 on Hawaiian Airlines and Alaska Airlines until April
Sacramento $248 on Hawaiian Airlines until March
Portland $186 on United Airlines until November. 
San Francisco $219 $207 on Hawaiian Airlines until March December
Seattle $219 $205 on Hawaiian Airlines until November (limited) and $186 on United Airlines until December
Los Angeles $223 $208 – $214 on Hawaiian Airlines until May
Phoenix $278 $238 on Hawaiian Airlines until March
New York $338 $318 on Hawaiian Airlines until March
Maui Deals
Phoenix $283 $262 on Hawaiian Airlines until March
San Diego $186 on United Airlines until December
San Jose $198 on Hawaiian Airlines until April
San Francisco $198 – $207 on Hawaiian Airlines until May
Oakland $198 on Hawaiian Airlines until April
Sacramento $186 on United Airlines until December
Seattle $205 on Hawaiian Airlines until February and $186 on United Airlines until December
Portland $198 on Hawaiian Airlines until February and $186 on United Airlines until December
Los Angeles $268 $209 – $214 on Hawaiian Airlines until May
Kauai Deals
Los Angeles $203 $178 – $183 on Hawaiian Airlines until January May
Oakland $246 $209 on Hawaiian Airlines from April until May
Portland $253 $228 on Hawaiian Airlines until May
San Diego $193  – $228 on Hawaiian Airlines until October
Sacramento $251 on Hawaiian Airlines until March
Portland $253 $228 on Hawaiian Airlines until May
San Francisco $228 on Hawaiian Airlines until May
San Jose $242 $203 on Hawaiian Airlines until April and
Seattle $253 $223 to $232 on Hawaiian Airlines until May and $186 on United Airlines until November
Kona Deals
Oakland $207 $179 on Alaska Airlines and $183 on Hawaiian Airlines until February
San Francisco $209 $177 on Hawaiian Airlines until March November
San Diego $227 on Hawaiian Airlines until February April and $186 on United Airlines until November
San Jose $207 $203 on Hawaiian Airlines and $198 on Alaska Airlines until April