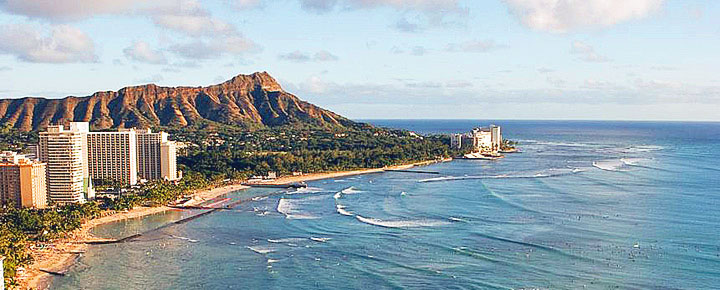 Prices reduced up to $100 compared with prior sale on today's Hawaiian Airlines flights summer/fall sale. Save on travel from August until November including many airfares we found at prices lower than those advertised by the airline.
Availability is also quite limited for best prices, so don't wait before booking.
Our mission is focused on finding availability "pukas" (Hawaiian for holes), with prices below those advertised by the airlines. US DOT requires that airlines meet minimum standards of availability before they advertise. We look for and bring you those deals with somewhat less availability and far better pricing!
▶ Travel from August 13, 2018 through November 14, 2018.
▶ Start travel either on the US Mainland or in Hawaii.
▶ One way travel available on most routes.
Important: Read fares and availability below in order to be able to find these airfares.
Many good deals including routes to Kauai, Big Island (Hilo and Kona), Maui and Honolulu.
Travel and purchase dates: Book immediately at Hawaiian Airlines. Best prices are for travel Monday through Thursday.
Fares: Prices below are one-way, include all taxes and fees. These are the lowest fares offered and are not available on all or even most dates/flights.
Availability: Some routes are only on sale one or two days per week or even less. Use Hawaiian Airlines monthly fare calendars to find availability and best pricing by month. If you no longer find fares listed, they have become sold out as some availability at prices listed is very limited.
How to Book: Online booking only. Use city links below to go to Hawaiian Airlines website then search for your city pairs and dates on their fare calendar.
More Help: The Cheapest Time to Fly to Hawaii for all of our tips and tricks. If you don't find the deal or dates you are looking for, sign up for our free email updates for many more sales ahead. And feel free to leave a comment below if we can help.
Hawaiian Airlines Flights Summer/Fall Sale | Save Up To $100 More
Honolulu Deals
San Diego $230
San Jose $218
Oakland $200
Portland $248
San Francisco $209
Seattle $248
Los Angeles $248
Long Beach $248
Phoenix $278
Maui Deals
San Diego $218
San Jose $218
San Francisco $198
Oakland $208
Seattle $248
Portland $228
Los Angeles $248
Phoenix $317
Kauai Deals
Los Angeles $248
Oakland $198
Portland $277
San Diego $202
Sacramento $248
Phoenix $282
San Francisco $240
San Jose $228
Seattle $227
Kona Deals
Los Angeles $198
Oakland $202
San Diego $202
San Jose $208
Sacramento $278
Portland $291
Seattle $181
Phoenix $312
Hilo Deals
Oakland $283
Los Angeles $202
Portland $277
San Francisco $294
San Jose $296
Seattle $277
Phoenix $317
This post updated 5/22/18.