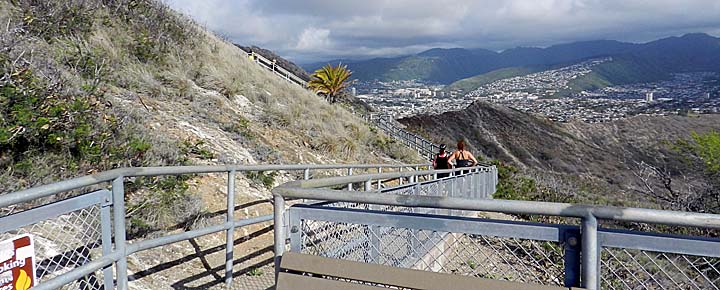 If you can handle stairs, uneven ground, and a steep climb, consider a hike up Diamond Head Crater.  I hit the trail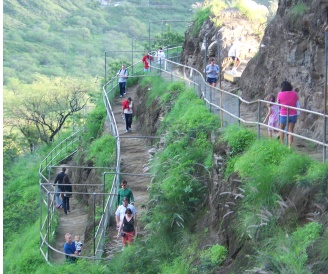 before 7am this morning when the sun was still on the rise.  It's one of the best times to be there.  The sun is not shining directly on the trail and there are not many people around.
This is quintessential Honolulu to me.  It is also sacred ground to Native Hawaiians and is called Le'ahi.  Western explorers in the 1700's gave the 300,000 year old crater it's other name, "Diamond Head."  Without a Tiffany guide around, they mistook the crystals in the rocks on the slope of the crater for diamonds.  In the early 1900's, the Federal Government stepped in and designated Diamond Head for military use.  Le'ahi and its heiau (temple) saw the construction of gun emplacements inside it's slopes.
Up until five years ago, you needed a flashlight to navigate a 225 foot long narrow tunnel and spiral staircase near the summit.  It was fun because you never knew who you might bump into.  Now both areas are lit and the sense of danger eliminated.  You'll still need to bring water, a hat and money.
Diamond Head is no longer free.  It's going to cost $5 for parking (passengers free) or if you walk-in you'll pay a dollar.  Budget travelers have two options to lower the cost.  On the weekends, you can park for free at the college across from the entrance and hike up to the parking lot.  The other option is to pick up hikers on the road to the parking lot and have each chip in the dollar fee (this time towards your parking).
After my hike this morning they closed the entrance road due to a rock slide.  You may want to check for any unforseen closures.