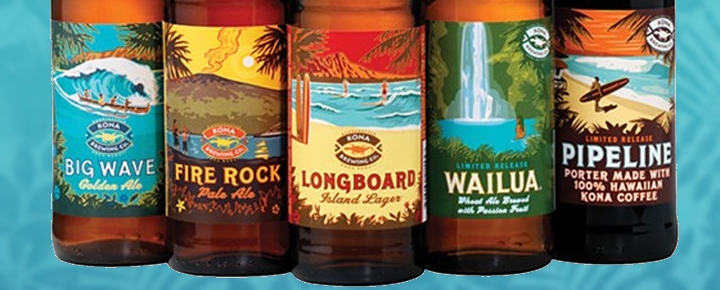 When you open a bottle of beer from Kona Brewing Company, it is most likely made in Portland, Oregon, Woodinville, Washington, Memphis, Tennessee, or Portsmouth, New Hampshire. To get the real thing, you will need to visit the Kona Brewery on the Big Island where 12,000 barrels are produced annually for use in Hawaii.
Looking at most of their ingredients which come from the mainland, the noticeable difference is the water used in Kona versus that on the mainland. According to their website:
"We at Kona Brewing are lucky to have an excellent source of local water that we are proud to use as the foundation of our tasty brews. The rainwater is naturally filtered through Hawaii's volcanic rock and accumulates in underground aquifers from where it is pumped to the brewery."
While that's great if you are enjoying their beer in Hawaii, how does that translate without their unique water on the mainland? Instead of drinking water filtered through Hawaii's volcanic rock, it's coming from someplace else not, well, quite as tropical or picturesque.
A lawsuit is in the works. We agree that their website makes it appear that everything is coming from Big Island. You have to dig deep to see otherwise. On the other hand, their bottles do say their beer is also made on the mainland.
For now to get the real tropical taste you'll need to visit Hawaii (and not a local Costco in the islands). Beer lovers can also get a real bottle from Kona that has been turned into a candle from this ETSY seller who we have used before.