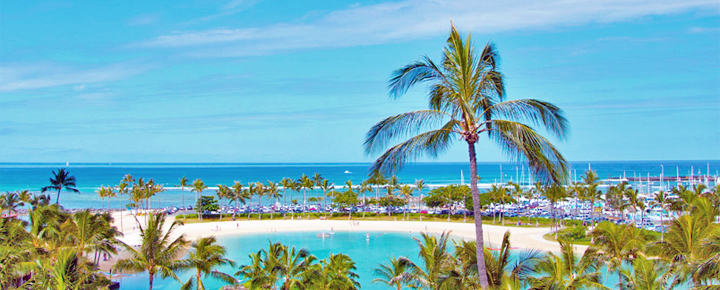 Lahaina noon will occur this year starting on May 18, 2017 with the second round of occurrences set to end on July 18, 2017. Yes, it's hard to believe that it's already that time of year! These events, when the Hawaii sun is directly overhead and casts no shadow, travel through the islands from south to north.
Lahaina noon serves as a reminder of just how strong the Hawaii sun really is given our location south of the Tropic of Cancer. Hawaii stands alone in the US as having this special event which replaces the summer solstice as the time when the sun's rays are closet to direct. We instead receive the most direct rays prior to and following the start of summer.
During Lahaina Noon, any vertical object (think utility poles for example) will not have a shadow cast. The further south you are in Hawaii, the earlier and the later Lahaina Noon occurs each year.
Lahaina Noon 2017
Here are the dates and times when you'll find the Hawaii sun directly overhead:
Hana May 23 12:20 p.m. and July 18 12:30 p.m.
Hilo May 18 12:16 p.m. and July 24 12:27 p.m.
Honolulu May 26 12:28 p.m. and July 16 12:37 p.m.
Kahului May 24 12:22 p.m. and July 18 12:32 p.m.
Kailua-Kona May 18 12:20 p.m. and July 24 12:30 p.m.
Kaunakakai May 25 12:25 p.m. and July 16 12:34 p.m.
Lahaina May 24 12:23 p.m. and July 18 12:33 p.m.
Lanai May 23 12:24 p.m. and July 18 12:34 p.m.
Lihue May 31 12:35 p.m. and July 12 12:42 p.m.
10 Tips to Avoid Sunburn on Hawaii Vacations
It seems obvious, but you'd be surprised just how many visitors we see who look burned to a crisp. Here's what we do to stay out of the red.
1. Sunscreen has not been proven effective in preventing skin cancer. Covering up is the only thing that works. We know, who wants to do that. See tips #4 and #6.
2. Zinc or titanium oxide based sunscreens are still considered safest and most effective in preventing sunburn. Read our recent article: Hawaiian Sunscreen | Health and Safety Updates.
3. Use safe sunscreens in two hour intervals; more frequently when in the water.
4. Be alert to excessive sun exposure from 10am until 3pm.
5. Don't forget to apply sun protection to ears and lips.
6. Wear a hat and sunglasses.
7. Don't use old sunscreen that's been sitting around for years.
8. Help protect Hawaii's coral. Chemical barrier (vs. physical barrier) sunscreen can damage Hawaii's reef system.
9. Drink more water during periods of sun exposure.
10. Research sunscreens for effectiveness and safety.