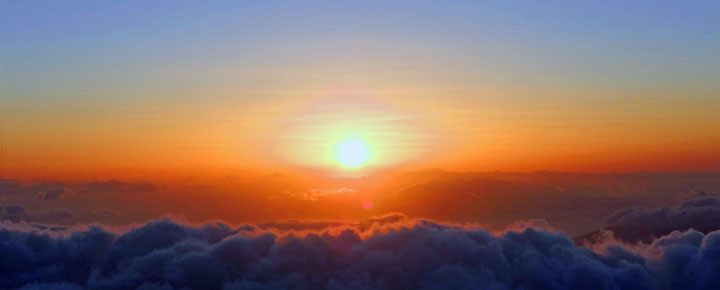 We recently visited the summit of Mount Haleakala in the afternoon in time for sunset, and as you can see from the photo, it was nothing short of spectacular. Having driven up for sunrise as well, this timing seemed like an interesting juxtaposition. The drive up was very different with almost no cars, so we had the windy road virtually to ourselves. When coming for sunrise, it can be traffic all the way up.
An easy drive up – slow down and take your time
Don't be intimidated by the drive. Just slow down and enjoy. Once we turned up Crater Drive it took about 45 minutes to reach the summit. The views and scenery along the way are simply breathtaking. You'll find the road in pristine condition from when it leaves Olinda, all the way to the 10,000 foot peak.
Once near the top, there's a visitor center and a short hike. That's not the end of the road, however, there's more to see at the top where you'll find an enclosed observation deck (always open) and surreal views over the crater to the ocean beyond. I also saw the two summits of the Big Island in the distance.
Park headquarters visitors center is open from 8am to 3:45pm daily. The visitor center at 9740 feet is open from sunrise to 3pm. All restrooms are open 24 hours per day, except when during severe weather events. Please check for alerts on closures.
The well maintained national park is vast, encompassing far more than the famous volcanic summit. It starts at the ocean at the Kipahulu area, which is accessed just beyond Hana. That's home to O'Heo gulch, also knows as Seven Sacred Pools. Your $15 at either point buys you a three day entrance, as it is just too much park (and too much driving) to be done in one day. Park entrance is also free on Martin Luther King, Jr. Day, National Park Week in April, National Park Service's Birthday week and National Public Lands day in September, and Veterans Day.
Activities
There are an unlimited number of things to do, including sightseeing, walks, organized downhill bike rides and even horseback. You can also do a walk or hike conducted by the National Park Service. Naturalists will enjoy unique Hawaii flora and fauna. Star watching is unequaled, being above one third of the earth's atmosphere. This is also the home to Hawaii's first astronomical research observatory.  If you'd like to stay on, and plan ahead, there are cabins for rent in the park.
Weather
You can expect the weather to be extreme within the park. This is not a joke and should be taken seriously. At 5pm the temperature at the summit was a very brisk 45 degrees and sunny. Bundle up – you're likely to need every bit of clothing that you have.
More information
The National Park Service has more on their Haleakala website.