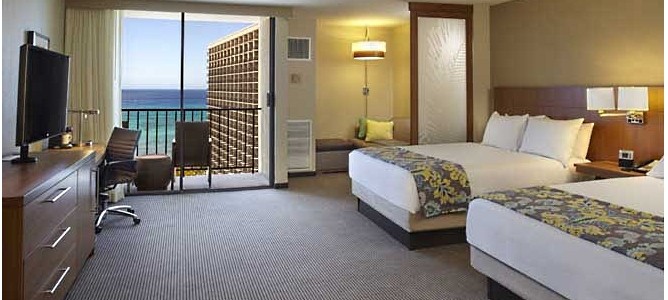 February 17, 2012. Okay, here's a brand new hotel I plan to try myself shortly. You may recall I wrote about it year ago when we first learned that the frankly quite terrible Ocean Resort (oxymoron) Hotel was to be re-branded Hyatt Place Waikiki Beach. It took more than re-branding, it took a lot of work to eliminate reported issues including bed bugs, blood stained carpet, disgusting beds, rude staff, and more. That job is mostly complete and the first tower of the 425 room hotel has opened. The reviews have been coming out and they look very favorable.
For $149 via Bookit.com , together with some decent airfare, this looks like the makings for a reasonably priced Hawaii vacation. On the hotel's website the cheapest I price I could find for corresponding dates was $194. Prices vary by date. If you've had a chance to stay there already, please let me know how you liked it.
I love the location at the Diamond Head end of Waikiki, away from much of the hustle and bustle. There's also abundant free Waikiki parking located nearby, which is nothing to sneeze at in Honolulu nowadays.
---
Free VIP Alerts drawing today
Sign up for chances to win free VIP Alerts every week. While it's not a free trip to Hawaii, it will sure help you get here for less $$$.If you're not already a Facebook fan, here's another good reason to give it a try.