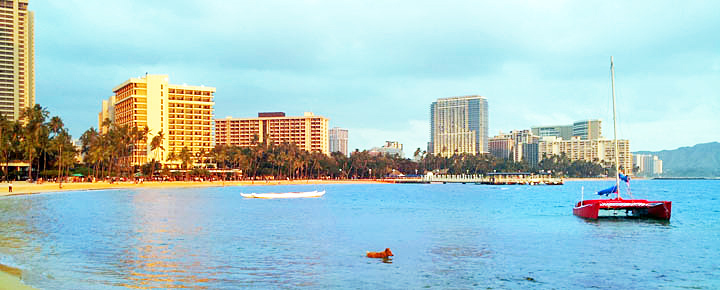 Encouraging news on outrageous Hawaii hotel fees. This week, the Hawaii Office of Consumer Protection indicated it has been checking into Hawaii hotel fees as is the FTC on a national basis. The state watchdog said "It's becoming more pervasive in the industry. And number one we want to ensure that the consumer is fully informed as to what costs are associated with reserving a room. If the fees are deemed to be unfair or deceptive, hotel operators can be fined up to $10,000 per violation."
We recently wrote about Hawaii hotel fees that we had encountered ourselves and what a bad taste they had left. Well, we aren't alone. An article from New York University indicates that hotel fees approached $3 billion last year. As one local example, Hilton Hawaiian Village, is said to collect nearly $30 million per year in resort fees. Hawaii hotel fees can run up to an additional $40 per night. In our research, it remains hard to find fees quickly, and they aren't regularly presented as part of the room rate. Instead they are listed subsequently during the online booking process.
New and upcoming Hawaii hotel fees to watch for and avoid:
1) Room Experience Guarantees. Want a king bed or a high floor for example. Gotcha.
2) Early check-in. These used to be free, based on availability. Soon look for them to be based on payment as is the case with late check-out.
Are fees disclosed or cloaked?
Surprise fees, such as we still largely encountered in checking today, are a bummer. Finding fees late in the online booking process, or via confirming emails, cards in your room, etc. is simply bad practice. One apparent reason for these being a surprise may be that they are fast changing and may not have made it into the booking process.
In summary, if you thought the airlines were the only masters of shocking fees, think again. Hawaii Hotels (and the entire hotel industry) would like to outdo them, that is unless the government steps in. This obfuscated fee dilemma started years ago with online marketing. The theory has been that the best price catches the eye of the online travel shopper and thereby wins the reservation. Only sometimes it backfires, as was the case with us.
We were trying to book hotel accommodations in Honolulu recently. In the end we opted for an Airbnb with free parking. That in part because of extreme frustration with hotel fees. Not that Airbnb was perfect mind you, in fact we were outraged that their fee for the reservation itself was $75 in addition to what they charged the host.
Free WiFi Issues
Marriott got in trouble last year for attempting to block WiFi hot spots. The FCC charged them on trying to prevent use of personal phone based WiFi.  The issue has since been resolved. That together with the trend of expensive hotels still not offering this for free.
Below are some of the crazy things we encountered when trying to book Hawaii hotels in Honolulu.
Cancellation fees. Obviously there are some rates that are pre-paid and non-cancellable. Not a problem. But in addition, we found cancellable reservations that have a significant fee if you change your mind. Even totally refundable rates that could previously be cancelled within 24 hours of arrival now mostly require 48 to 72 hours or more before stay in order to not be charged.
Resort fees. We were confronted with up to $40 per night. Sometimes that provided parking which, in the case of Honolulu, can be extremely expensive. On the other hand, sometimes it provided merely a bottle of water, and internet. One hotel strangely called it a "boutique fee." In truth, the value offered for resort fees is extremely variable.
Beat of Hawaii: "Resort fees are a disgraceful charge used primarily to cloak the true cost per night of your hotel stay by showing a lower advertised rate. Because resort fees are not optional, the proper thing to do is to include them as part of the nightly charge. Period"
Cleaning fees on departure. There are a growing number of Hawaii resorts charging an out cleaning fee. Once thought of as absurd, this can add up to $200 or more to the cost of your stay!
Housekeeping fees. If you'd like to have the room tidied while your on vacation, many hotels will assess a daily charge.
Air conditioning fees. Does this sounds too laughable to be true? It reminds us of when Motel 6 charged to use the TV. One Hawaii resort company we checked charges a fee to use the air conditioning of up to $30 per night depending on the room selected.
WiFi fees. Sometimes covered through loyalty program membership or resort fee, this is another hard to stomach charge. We often opt to use our generous and fast cell phone data plans instead.
Could there be more light at the end of the tunnel? Read on for that.
Beat of Hawaii Tips.
Don't assume the price offered is the true price until you have carefully read the terms and conditions and arrived at the payment screen. Perform your due diligence there. This can more easily be done on a computer rather than on a phone in our experience.
Often the resort fees are not listed as part of the total price, which is even more deceptive.
Be wary of words like "extra charges may apply" which are sometimes found on third party websites like Expedia and others.
Join a hotel loyalty program. Some fees can be mitigated, and lower prices offered when booking directly with the hotel chain like Hilton for example (instead of OTA's like booking.com).
Consider NCL Pride of America with most everything covered for 7 nights. They have their own fees, but that's another story.
Consider vacation rentals like VRBO. But do remember they have their own fees.
Read reviews. Visitors may complain about unexpected fees which can help you to not fall into the same trap.
Federal Trade Commission and Congress on hotel resort fees.
Last year the FTC signaled that it wants Congress to enact legislation to help with out of control hotel resort fees. FTC chair Edith Ramirez said: "In my view, however, the most efficient and effective means to mandate the type of industry-wide requirement you propose would be through legislation…." The FTC wants hotels to list resort fees as part of the daily room rate.
We remain cautiously hopeful. In the interim it is definitely a buyer beware situation.