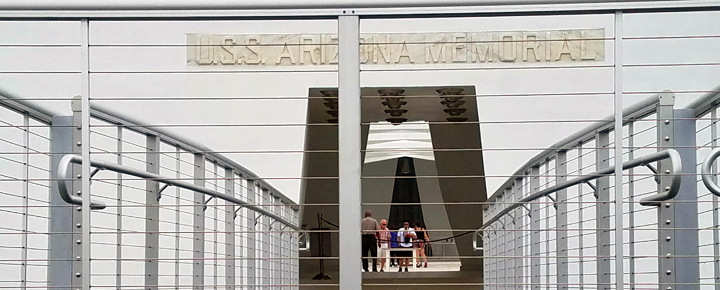 Pearl Harbor is 75 years old. Read on for a one day $19.41 inter-island airfare commemorating its anniversary. Also see a schedule of Pearl Harbor day events in Hawaii or watch a live stream of the ceremonies.
Beat of Hawaii editors Rob and Jeff returned to Pearl Harbor recently, during the memorial's preparation for the 75th anniversary. In a word, we were very moved. We had both heard about how this day had impacted our families so many years ago. And how emotional they were when they subsequently were able to visit Pearl Harbor themselves. Jeff's aunt remembered when time stood still on that day as the news struck across the country.
December 7, 1941 was 75 years ago tomorrow, the infamous day that led to the subsequent US entry into World War II on December 8. The attack started at 7:48 in the morning as 353 Japanese planes launched from 6 aircraft carriers and struck in two waves. The 8 US battleships in the harbor were damaged and 4 were sunk in addition to the loss of 188 aircraft. 2,403 Americans were killed and 1,178 injured.
The USS Arizona at Pearl Harbor, now the iconic memorial pictured above, was the only ship which remained sunk, with the others all raised and many returned to war time service. The Arizona, which had been hit with a nearly 1 ton bomb, exploded and sank with 1,000 sailors aboard.
Oil can be seen in the image below, which continues to be exuded from the remains clearly visible below the blue Pacific.
The Memorial we see today was dedicated in 1962 and soon thereafter the National Park Service took over the operations of the national historic landmark. Nearly 2 million annual visitors are still drawn to this top Hawaii attraction.
For us, the highlight of Pearl Harbor by far is the USS Arizona memorial. Visiting the memorial commences with a half hour documentary film followed by a brief but haunting boat ride out to the eerie memorial itself. There you spend time largely alone with history.
Following the memorial visit, we also enjoyed the new visitor center and at the fascinating Pacific Aviation Museum. The museum includes two original hangars replete with bullet holes and the control tower. Planes and helicopters on display with their stories provide fascinating insight into a time gone by.
Please share your experiences of Pearl Harbor.
$19.41 Airfare on Mokulele Airilnes
If you're here in Hawaii for tomorrow events and would like to take part in person, Mokulele Airlines has a last minute, special one-day airfare that might help. Fares are one-way for each flight segments operated on December 7, 2016 only, on Mokulele flights in Hawaii. We found limited availability, but it is worth checking.