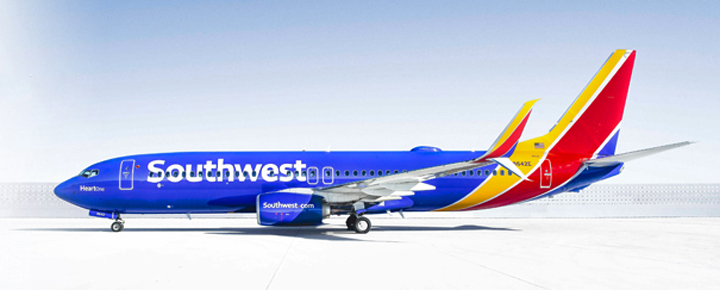 An industry event is scheduled to take place in Honolulu, that might provide insight into what we can expect next from Southwest Hawaii flights. On August 7, Southwest Airlines executive team is hosting a "A Southwest Talk Story: Serving Hawaii with Heart" for travel professionals. Beat of Hawaii will be there and will let you know right away what occurs.
Beat of Hawaii: We do suspect that this August 7 event may be when the first round of new Southwest Hawaii flights will be announced. 
On that subject, this weekend we heard an interview with Mark Haneke, Marketing Manager of the Sacramento County Airport. He spoke about the recently announced flights from Sacramento to Maui and Kona by Hawaiian Airlines and Alaska Airlines respectively. Mark mentioned those being pre-emptive to the upcoming announcement of Southwest Airlines Hawaii flights. Regarding SWA's announcement, Mark said, "we expect that to come by August."
1. What's going to be next for Southwest Hawaii.
First, test flights are imminent. We have been awaiting the test or proving flights which will be the most visual demonstration that Southwest flights are nearly ready. Those are expected to come within 60 days and probably sooner.
Flights may still start this year! Indications are flights could even start by fall. We won't hold our breath for that but let's say it would not be unlikely to have them start flying to Hawaii well before the holidays. That has certainly been SWA's intention.
1. First California departure cities remain Oakland, San Diego, San Jose and Sacramento. But which cities will come next?
Start cities are unchanged, but it appears that more California cities could come very soon thereafter. Look for Los Angeles and perhaps Ontario and/or Long Beach.
"We intend to serve four Hawaiian Islands from California…. Our initial intention is to begin Hawaii nonstop service from Oakland (OAK), San Diego (SAN), San Jose (SJC), and Sacramento (SMF). From California, you can reach Honolulu, HI (Oahu), Kahului, HI (Maui), Kona, HI (Island of Hawaii), and Lihue, HI (Kauai)…. We also intend to provide interisland service, so you can fly between the Hawaiian Islands with us, too."
2. Hawaii inter-island service and time frame confirmed.
"We will start interisland service once we build up our network and have enough frequency to make it meaningful."
BOH: Look for some degree of interisland right away, with more extensive interisland service to start before the end of 2019, including a new Hawaii based crew. A significant issue here is that the SWA fleet will have engine cooling considerations on repeated short routes. The 737's were not designed to compete with the Hawaiian Airlines 717 fleet, which supports all day long, rapid-fire, short hops. Thus. it remains to be seen how this will impact flight frequencies, or if there will be a combination of inter-island plus one-stop service to mitigate this issue. An example of that would be Oakland/Honolulu/Lihue/Oakland.
3. Pricing will be aggressive.
"We will come in with lower fares, and not introductory fares. We have the structure to offer low fares…. It's got to be a price that's competitive and the lowest price in the market." — SWA president Tom Nealon.
BOH: First, a fare war with unprecedented low prices is inevitable. We also wonder if Alaska Airlines might withdraw from these routes once Southwest service starts.
4. Prior news.
Four Hawaii airports announced. Southwest CEO Gary Kelly confirmed that they will be serving all of Hawaii's primary airports: Honolulu, Maui, Kauai and the Big Island. That from California airports initially, as previously indicated. As of 4/26/18, CEO Gary Kelly said: "I think we are going to see a nice (Hawaii) ramp up very quickly. We are going to lead on pricing and we are going to generate a lot of traffic very quickly."
All Southwest plans were shaken by recent accidents. Following its 4/17/18 incident and first ever passenger fatality as the result of an uncontained engine failure, as well as another subsequent incident, the company has been trying to regroup and cover. All marketing activity was temporarily halted.
Long Beach as a future departure city? JetBlue has announced it is cutting back service to Long Beach. That will make additional slots available for Southwest, should it be interested. Hawaiian Airlines will also be flying from Long Beach to Honolulu starting next month.
Routes other than from California. Previously we had reported Las Vegas and Phoenix in addition to California flights. Those should be coming a bit later.
Aircraft. Flights are still set to start on existing 737-800 aircraft, as are being used by other carriers on flights to Hawaii. They will then transition to their new 737 MAX 8 and perhaps 737 MAX 7. The latter brings cities like Denver and beyond into range.
Southwest service offerings. Southwest's unique one-class service paradigm will remain unchanged according to CEO Gary Kelly. They include:
1. Two free checked bags.
2. No seat assignments. There will still be an early boarding option for $15, which should prove to be extremely popular on flights to Hawaii.
3. No meals for sale. Only drinks and snacks as is customary for the airline.
4. No charger ports. You'll need to bring a charged battery and perhaps a charger pack. We use the Anker ones, which have been the best performing and most reliable.
5. In-flight entertainment. It will be available on your own devices only. Fee based satellite WiFi may be offered either at launch or subsequently.
Hawaii overnight/red-eye flights
Kelly stated that while they may offer overnight flights in the future, "we don't really desire to fly red-eyes right now." "For our style of operation, it would complicate things.
BOH: Overnight service will definitely come to their Hawaii flights at some point. That could occur much sooner than later out of logistical necessity.
The "Southwest Effect"
So exactly what impact can we expect to see in terms of Hawaii airfares once SWA is a reality? A 2016 Northeastern University study based on 2010 data found that when they enter a market, a whopping 24% drop in airfares can be anticipated.
Updated July 9, 2018.