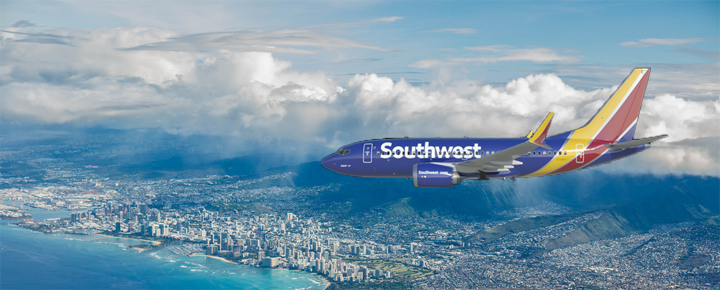 Earlier this week Southwest Airlines CEO Gary Kelly addressed the subject we've all had on our minds. Namely, when will Southwest Hawaii flights commence.
"We're deciding what our plans are for 2018 and Hawaii is important to us." – Gary Kelly, SWA CEO.
While not specifically confirming or denying that flights will start in 2018, this confirms that you can bank on Southwest Hawaii flights in the near future. The company is set to start delivery of their new Hawaii capable fleet later this year. More specifically, the first 737 Max 8 will start flying on October 1. The company plans to have 14 of the new aircraft flying before the end of 2017.
Additional hurdles were recently cleared prior to Southwest Hawaii flights being announced.
We should see an announcement in the not too distant future, and that is likely to happen by Fall 2017. When that happens this post's photo fantasy will become a reality.
1. Southwest has made significant progress with ETOPS, the twin engine, over water certification required for Hawaii flights. We understand that Southwest recently obtained ETOPS certification for flights over the Gulf of Mexico. Before that approval, we were told by our Southwest pilot friends that flights had to hug the coastline.
2. Southwest's reservation system was archaic and did not support Hawaii flights. The legacy system also did not allow for overnight flights, varying schedules by day of week, or bookings beyond six months. In a schedule update recently released, this was addressed.
Late last year, two additional issues were resolved. Pilots at Southwest Airlines settled their 4 year dispute and ratified their contract. That was important because the previous contract did not allow for the planes needed for flights to Hawaii. That agreement followed Southwest flight attendants ratifying their contract. The union contracts were two of the primary obstacles to entering Hawaii service. At this point there is still work to be done, but the path is becoming clearer.
Here's what needs to happen next, before the first SWA planes land here.
1. Southwest will complete ETOPS preparation needed for trans-Pacific flights, which is more complex than the Gulf of Mexico ETOPS. We're still awaiting word on that from our contacts at SWA.
Beat of Hawaii (BOH): Flights can start in 2018 after in-service testing to confirm performance for Hawaii routes. SWA will not start until after Max 8 airplanes start flying. 
2. Industry speculation. Hawaiian Airlines' stock valuation is closely tied to the Hawaii entry of SWA. Credit Suisse and Deutsche Bank essentially concur with our points above in relation to the start of SWA flights to Hawaii.
BOH: Definitely no flights until 2018 at earliest. 
3. SWA intentions are confirmed.
BOH: Southwest flights to Hawaii are a certainty and they won't keep us waiting much longer.   
Are Hawaii Flights a Priority for Southwest?
Yes definitely.
Beat of Hawaii predictions updated.
Expect to either see Southwest Hawaii service "announced" late 2017 to early 2018 with flights to start in 2018.
Oakland will be the primary mainland departure city for Hawaii flights. The next most likely gateway is Los Angeles. Other possible Hawaii departure cities include Phoenix and San Diego.
We do not anticipate Southwest offering inter-island service, at least not initially.
Flights from distances further than the above mentioned cities will, by necessity, await longer range aircraft.
Reasons Why Southwest Hawaii service didn't happen sooner. 
Pilot and flight attendant labor disputes continued to plague SWA for years. So did the reservation system.
Acquisition of AirTran was far more complicated and time consuming than originally thought.
Competition and discounting between west coast cities and Hawaii has remained strong on Hawaiian and Alaska. This was further complicated with Virgin America's entry into flights to Hawaii from both San Francisco and Los Angeles and then by their acquisition by Alaska. Opportunity for the higher airfares that typically attract a new player like Southwest were diminished, especially on Southwest's target Bay Area and Southern California routes. Pricing stability has returned which is positive for Southwest's plans.
Virgin America beat Southwest to Hawaii. This could not have come as a surprise to SWA, however, since Virgin publicly indicated their intentions years earlier.
Complications that occurred with ETOPS in relation to SWA Caribbean flights. ETOPS has proven to be more problematic for SWA, even in shorter over-water distances compared with Hawaii.