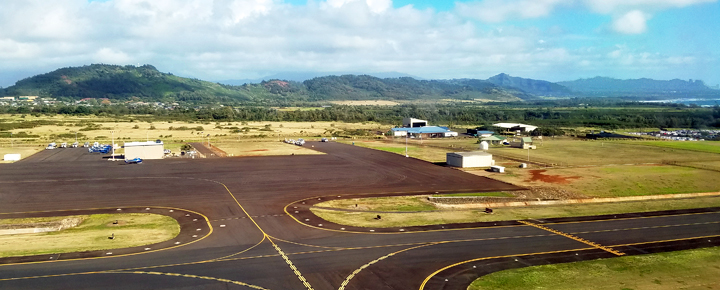 Did you know that Hawaii Airports include 14 active civil aviation facilities, 5 of which handle the bulk of the state's inter-island and trans-Pacific traffic? When you score one of our Hawaii Deals, here's a little more about your arrival airports and what's new.
Trivia: Which is the oldest of Hawaii's airports, and why is Maui's airport code OGG? Read on to find out more.

Honolulu International. The first and most famous of our commercial Hawaii airports is HNL and was originally called John Rodgers Airport. The open air facility where you'll enjoy the fragrance of tropical flowers wafting in trade winds, originally opened in 1927 and was named in honor of the aviator and sailor. In 1925, Rodgers made the first trans-Pacific flight from California. When his plane ran out of fuel hundreds of miles from Hawaii, he crafted sails from the wings in order to complete the journey. Being the major airport of Hawaii, it seems more than 12 million annual visitors.
What's new at Honolulu Airport. 
An on airport luggage storage facility has opened. For $12-15 per day you can store a bag and head off to town. This is a great (and much asked for solution) for layovers in Honolulu.
A new interim car rental facility is open which houses Advantage, Avis, Budget, Hertz, and National. Next comes the permanent consolidated facility which is scheduled to open in four years.
The new Mauka concourse will provided added capacity during peak hours and the ability to handle larger planes such as the A-350. This first such expansion in two decades is schedule to be completed in 2017. It is to be an l-shaped building connected to the inter-island terminal with additional capable of 6 widebody or 11 narrowbody planes.
Kahului Airport (Maui). Designated OGG in honor of aviation legend, and Kauai native, Bertram J. Hogg (which is pronounced Hoag). The second busiest of Hawaii's airports serves one of the routes with the greatest air traffic in the country, between Honolulu and Maui.
What's new at Kahului Airport. A new airport access road is just being completed. It will help eliminate congestion by providing a straight shot to and from the airport which will bypass busy Dairy Road.
Hilo Airport.Where did the code ITO come from? We're not really sure. The obvious code for the Big Island airport would have been HIL, which was already taken in Ethiopia. It may have been named after an early manager at the airport for Hawaiian Air, whose name was of course, Ito.
Kona Airport. Built on recent lava flow, KOA is the only major island airport that doesn't use a Jetway. When the airplane doors open you descend the stairs under a warm, Hawaii sky. KOA opened in 1970 although construction continued for another twenty years. Since then the population on the West-side of Big Island has increased 50 percent.
What's new at Kona Airport. Parking lot improvements were recently completed.
JHM. This airport code isn't widely known, but represents Maui's airport near Kapalua Resort. It replaced the prior Kaanapali Airport in 1987. The code is in honor of John H. Magoon, who was Hawaiian Airlines' president when the company developed the airport.
Lihue Airport (Kauai). Kauai airport in Lihue was not its first. That honor goes to Burns Field near Hanapepe at Salt Pond Beach Park. Commercial flights by Hawaiian Airlines started there in 1929. A year later, runways at Burns Field were extended with use of prison labor which played a part in construction at other Hawaii airports as well.
What's new at Lihue Aiport. Future upgrades include modernizing the ticket lobby, construction of a consolidated car rental facility, and expanding parking by 450 stalls.
Do you have anything you'd like to ask or interesting facts to share about Hawaii's rich history in civil aviation?
Also see: Honolulu Airport Reef Runway Celebrates 35 Years
Photo is Lihue Airport and taken by Beat of Hawaii.