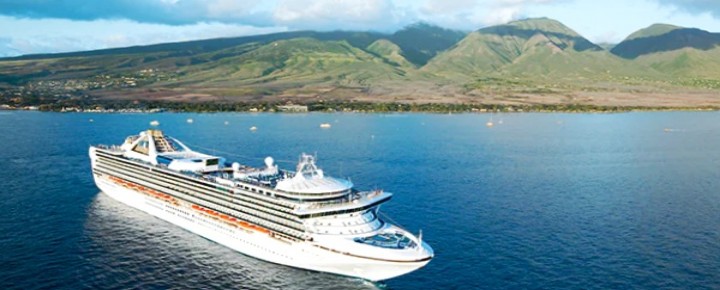 A roundtrip San Francisco to Hawaii cruise has suffered a Covid outbreak. The cruise on Ruby Princess ended last week after 15 days at sea. This was reported by the San Francisco Dept. of Public Health, which said that the 143 passengers tested positive for Covid following their return to the mainland on April 11. That number may be incomplete, as you'll see below.
The ship departed San Francisco on March 27. It arrived in Hawaii first at Honolulu on April 1. It then visited Maui, Kauai, and the Big Island, before another five-day trans-Pacific return, first to Ensenada, then to San Francisco.
It was also reported that a large percentage of passengers became sick, as indicated by coughing. Only those who self-reported and tested were counted among the cases. Those who did test positive were quarantined in separate cabins. Passengers on board weren't told about the outbreak, and there was no testing to help find others who might have been infected but remained asymptomatic.
It was also reported by the CDC, that of the 100 cruise ships now taking part in the federal government's Covid-19 cruise ship program, 52 ships are currently being investigated for Covid outbreaks. The most recent cruise and a prior one on the same ship both resulted in CDC investigations.
The health department said that the passengers and crew were 100% vaccinated (per CDC cruise ship requirements), and that the "the vast majority of individuals who tested positive for COVID experienced mild or no symptoms." The health department said that thus far only one of those passengers was hospitalized, which it said, "speaks to the incredible efficacy of vaccination." Princess said that "all fully vaccinated guests must also produce a negative, medically observed COVID-19 test (PCR or antigen) taken within two days of their embarkation on all Princess sailings." Thus, the likelihood that the Covid infections were directly related to the Hawaii cruise.
Ruby Princess is San Francisco's hometown cruise ship and first welcomed guests back in November. The ship sails out of SF to Hawaii in addition to Mexico, the Pacific Coast, Alaska, and the Panama Canal.
Disclosure: We receive a small commission on purchases from some of the links on Beat of Hawaii. These links cost you nothing and provide income necessary to offer our website to you. Mahalo! Privacy Policy and Disclosures.