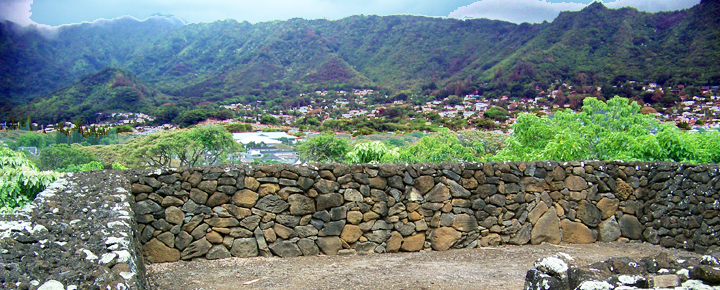 Are you looking for new things to do in Honolulu on your next Hawaii vacation? We have a recommendation to make. Plan a visit to the Manoa Heritage Center and visit a thousand year old heiau next to a historic Tudor home. Unusual bedfellows for sure which makes this hidden gem in Honolulu even more interesting.
You can't drop by unannounced. We'll explain why later. Call 808-988-1287 at least 2 weeks in advance to make a reservation for the 1-hour tour. You'll pay $7 for each adult, $4 for seniors or military personnel and child admission is complimentary. Be sure to arrive on time as parking is limited. Bring water. Wear walking shoes, hat and use sunscreen.
You're going to be seeing one of the few traditional Hawaiian structures that exists in urban Honolulu.
It's the thousand year old Kuka`o`o heiau, restored in 1993, that was used for rites and rituals surrounding food productivity. Surrounding Kuka`o`o are native Hawaiian plants and a large Tudor Revival Style Home called Kuali`i.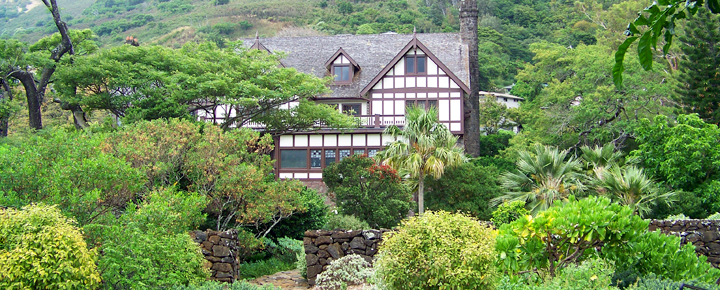 Centuries ago there were 14 heiau in Manoa. Kuka`o`o survived because of a decision made years ago by Monty Cooke. When his mansion was being built in 1911, the architect wanted to locate the home on top of the heiau because of better views of Waikiki and the Manoa Valley. Monty said no. He wanted the heiau protected.
The current residents of Kuali`i are Sam and Mary Cooke. Sam is Monty's grandson. Like his grandfather he is a preservationist. When Monty died in 1948 he bequeathed the land where the heiau stands to his daughter. She later sold it to a developer and Sam bought the parcel back saving the heiau a second time.
What's New – Ground was recently broken for their first Visitor and Education center. This welcome addition will include displays and restrooms.

The nonprofit Manoa Heritage Center was established in 1996 by the Cookes'. Their home is a private residence, which is why their address has been omitted. Kuali`i is on the National Register of Historic Places. Some day it may be open to the public as a historic museum. For now you can explore the grounds and heiau by reservation only.
Disclosure: We receive a small commission on purchases from some of the links on Beat of Hawaii. These links cost you nothing and provide income necessary to offer our website to you. Mahalo! Privacy Policy and Disclosures.