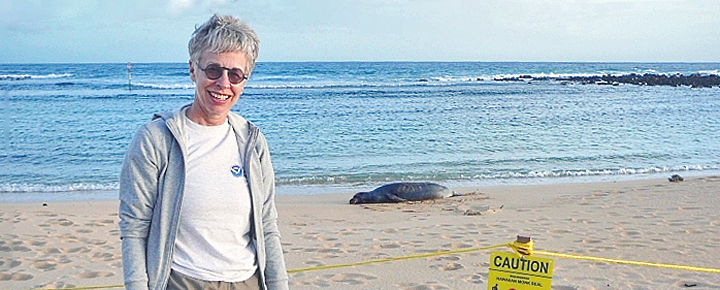 When Ohio resident and volunteer Hawaii guru Julie Honnert witnessed visitors chasing a Hawaiian monk seal back into the water in 2003, she immediately wanted to help this endangered species. "There was no number to call or signs posted to stay away," said Julie. Determined to do something, she began a two year course of study of marine mammals back home in Ohio and saved up for her first trip as a volunteer with Hawaiian Monk Seal Conservation Hui. Since then Julie has made 7 trips to Kauai and has donated 16 weeks of her time.
Julie is another example of volunteer Hawaii visitors who make a difference. We got to know Julie and her husband Steve on their latest trip. They stayed in our Beat of Hawaii guest suite while helping our Hawaiian Monk Seal.
"Life takes many turns and sometimes we are distracted or derailed from the thing we were meant to do. Working with the monk seal is the culmination of a dream long denied, and the proof that it is never too late to go after a pursuit that fills your heart with satisfaction."
Julie's typical day started at 7am when she checked south shore beaches for Hawaiian the monk seal.
Once a seal was spotted she put up Seal Protection Zones, identified it by tags, scars, size and sex, and called in the sighting to the coordinator. The decision was then made whether Julie should stay with the seal which depended on its location and the possibility of any disturbance from the public.
"One of the brightest aspects of this volunteer work is to educate people on the busy beaches about the seals. Most visitors have never seen a seal before, much less one on the brink of extinction. Seals typically sleep during the day and go out to feed at night, so around sunset our day will end with the seal waking up and flopping or rolling its way back into the ocean, then gradually disappearing among the waves. We retrieve the signs, roll up the ropes, and call it a day."
Many volunteers put in very long hours during the seals' molting season and pupping events. Julie personally averaged between 4-6 hours per day, sometimes more. The real heroes according to Julie are the on island volunteers who dedicate amazingly large portions of their lives to these animals.
Julie's most memorable experience came her first full day of volunteering.
A young seal was found at the north shore with a hook in her mouth. Julie was immediately recruited to assist in the intervention that removed that hook. Julie's role was to assist in subduing the seal while the hook was removed and the wound treated. Laying hands on such a critically endangered animal was a rare privilege for a new volunteer. Everything went according to plan, said Julie and the young seal was released quickly and safely.
Interested in Volunteering? Training involves learning seal morphology, ID techniques, beach training, and having good 'people' skills. For more information go to Kaua`i Seals or call 808-651-7668. Check the NOAA website to volunteer on other islands.
Disclosure: We receive a small commission on purchases from some of the links on Beat of Hawaii. These links cost you nothing and provide income necessary to offer our website to you. Mahalo! Privacy Policy and Disclosures.