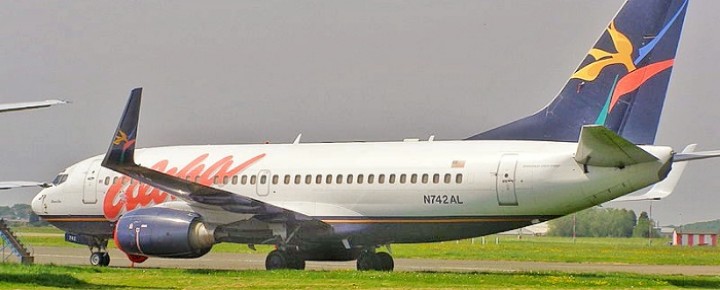 Interesting times, as we all long for things familiar and those gone by. For us, those include twelve airlines of Hawaii, the great majority of which are no longer in business, starting with renowned Aloha Airlines.
We've had a plethora of personal experiences with these companies over the years, ranging from Princeville Airways and Aloha Airlines, to Island Air, Mokulele, and Hawaiian. Our own observations about these companies are below.
Aloha Airlines.
We've both flown on Aloha Airlines more times than we will ever recall. Using their coupon books, flying with many family members and friends, and paying as little as $29 per flight. And who could forget that we would just arrive at the airport 10 minutes before a flight, and simply walk right on. Now those were the days!
Aloha began a largely distinguished airline history in 1946 and remained in business until 2008. The Aloha brand was highly regarded here in Hawaii and many considered it, "the people's choice" interisland carrier for more than 60 years.
They started business as Trans-Pacific Airlines, flying a single DC-3. It flew DC-3 until 1961. Aloha changed aircraft types multiple times in the sixties before settling on its familiar Boeing 737-200 "Sunbird" fleet. They tried many things too, including DC-10 widebodies, and operated routes to Guam, American Samoa, Christmas Island, and Rarotonga, among other locations.
After years of financial struggles, Aloha went bankrupt and ceased operations. Subsequently, Mesa attempted to acquire the Aloha brand for its Go! Airlines. A court ruling prevented that, and the brand, other than as a cargo carrier, ceased. Read: RIP Aloha Airlines, in which we interestingly predicted Southwest interisland service back in 2011.
Aloha flew a mixed fleet of aging and dangerous Boeing 737-200 interisland, and mostly Boeing 737-700 trans-Pacific. In 1988, interisland flight 243 suffered explosive decompression yet landed safely on Maui. A flight attendant died when she was sucked out of the plane, while 65 more on-board were injured. At the time, the plane had amassed nearly 90,000 cycles (flights), which was more than twice the number for which it was designed.
Discovery Airlines.
Discovery Airlines operated interisland for just three months in 1990, and flew 4-engine BAE 146 jet aircraft. Their demise was associated with having excess foreign ownership as dictated by law.
FlyHawaii Airlines 
FlyHawaii was an airline that never was. It was conceived of by James Delano, of Hawaii's Lion Coffee fame, and was to fly ATR 72 planes starting in late 2005. Delano wanted to model it after Southwest and JetBlue, by offering frequent flights and relying on online reservations. They had planned to charge $50 per flight. When Go! Airlines began operations, FlyHawaii terminated its plans.
Go! Airlines.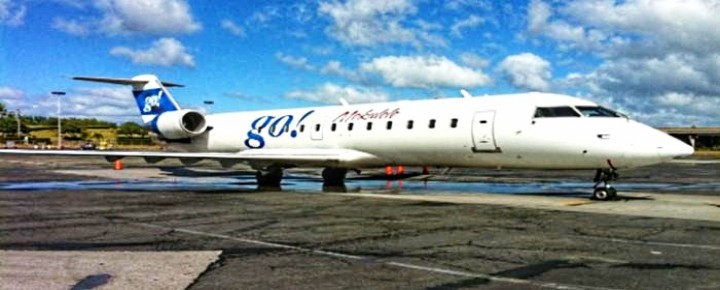 We only flew on Go! a few times, and it uncomfortable at multiple levels including the plane and the company. That is a brand that was not much missed here in Hawaii. Further, the flight crew was not from Hawaii but from the mainland. If passengers had questions about the islands, the onboard crew were not able to help.
Go! Airlines (also known as Go!Mokulele for a period – see photo), flew inter-island using a less than comfortable fleet of CRJ 200 jets that were operated by mainland Mesa Airlines. They stopped flying in 2014 after a difficult history. You'll recall that two Go! Airlines pilots fell asleep on a flight to Hilo from Honolulu. They then flew 25 miles past their intended airport while air traffic control tried desperately to awaken them. Read about that incident here.
Hawaiian Airlines.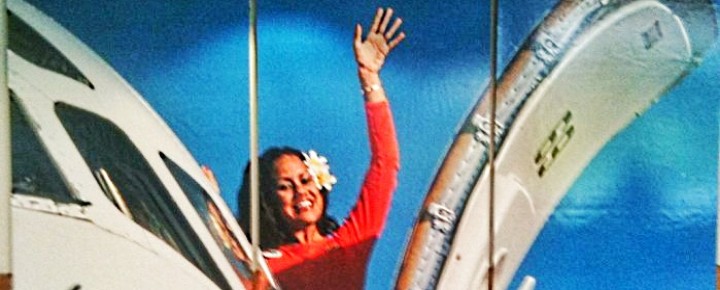 We've both flown on Hawaiian Air many hundreds of times, and it has largely been without any incidents at all. We rely on it the way mainlanders do a bus or train, for reliable transport. In addition to flights to the mainland, we've flown on Hawaiian internationally on countless occasions. At one point we knew many of the flight attendants, and have had the opportunity to meet their executives team. 
Hawaiian Air has been the bellwether of Hawaii since 1929 and is Hawaii's only flag carrier. Hawaiian operates primarily out of Honolulu and Maui, its home bases, as well as the Big Island and Kauai.  The company flies both interisland, to the US mainland, and to Asia, American Samoa, Australia, French Polynesia, New Zealand. It has a fleet of wide-body A330 and narrow-body A321 planes and uses Boeing 717 interisland. They also operate ATR turboprops as Ohana by Hawaiian, in conjunction with Empire Airlines. Hawaiian has never incurred a fatal accident or hull loss.
Island Air.
We loved Island Air and how they treated us as passengers. On the other hand, we had terrible delays on Island Air and came close to missing connections. Towards the end, we avoided them for reasons of reliability. 
Island Air was a much loved Hawaii airline that flew Bombardier Dash 8 aircraft and also tried moving to newer Bombardier Q400. It began in 1980 as Princeville Airways and Jeff got to fly on them during their first year. The company later expanded to serve most Hawaii airports, before being sold and becoming Island Air. It was sold two additional times, first in 2003 to Gavarnie Holdings and years later to billionaire Larry Ellison, who wanted to expand flights to his Lanai island. Ellison sold it to yet another company in 2016, which was soon followed by cessation of Island Air flights.
Mahalo Air.
Short-lived Mahalo Air flew interisland from 1993 to 1997. They began flights on Fokker F27 turboprop planes operated by Empire Airlines (funny coincidence with Go!) and started their own operations using ATR 42 turboprops upon acquiring their own flight certificate. Multiple problems plagued Mahalo, and they stopped operations once in 1994, after filing for bankruptcy.
Makana Kai Air.
Makana Kai Air offers service between Honolulu and both Hoolehua and Kalaupapa (Molokai), Kahului, and Princeville. They also fly between Kahului and Kona, began operations in 1998, and are known for flat rate fares.  They started in 1998
They fly Cessna 208 Grand Caravans. In 2013, one of their flights suffered an engine failure on takeoff from Kalaupapa and ditched into the ocean. All 10 on-board exited safely, while one person later died.
Mid Pacific Air.
Mid Pacific Air flew interisland from 1981 to 1988 using a combination of NAMC YS-11 turboprop and Fokker F28 jet planes.
They were a low-cost airline, and offered cargo flights in addition to 80 passenger flights a day between Honolulu, Kauai, and Maui.
Mokulele Airlines.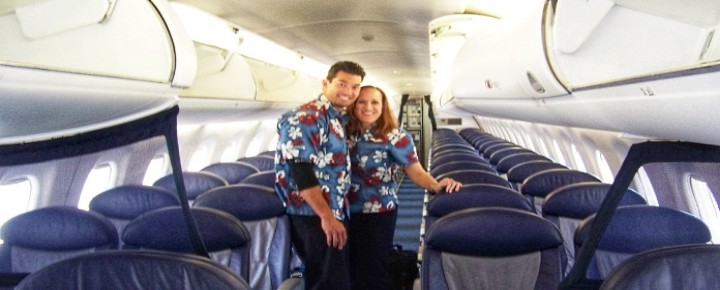 The photo above is from their inaugural jet flight to Kauai. On-board the plane with us was the company's president and CEO, Bill Boyer. Bill is a fascinating entrepreneur-type we enjoyed getting to know, who went from being an Alaska Air baggage handler at Seattle to inventing Alaska's legacy media Digi-Players to then, for a period, owning his own airline. Their 70-passenger, Embraer 170 jets were comfortable beyond compare. 
Mokulele Airlines is an interisland airline based at Kona. They operate both scheduled and charter flights between Hawaii airports using Cessna Grand Caravan aircraft.
Mokulele began in 1994, and was founded by a Native Hawaiian woman, Rebecca "Kawehi" Inaba. In 2005 Bill Boyer acquired it. In 2007, Mokulele began flying in partnership with Mesa Air. Then in 2008, it partnered with Republic Airways, at which point it received Embraer 170 jets (pictured). Then in 2009, Republic took 50% ownership in the company. Mokulele at one point even planned to acquire wide-body Boeing 767 planes, and hoped to start service between Hawaii, Illinois and London. That never happened. In 2019, Mokulele Airlines was purchased by Southern Airways Express.
Pacific Wings.
Jeff once had to charter a Pacific Wings plane to pick up his family on Lanai, after they were stranded by another airline. 
Pacific Wings was an interisland carrier based at Kahului, Maui. They started flying inter-island in 2007 and ceased operations in 2013. They flew Cessna 8 seat Grand Caravans between Honolulu, Molokai, Lanai, Maui, West Maui and pore. They featured $49 fares for every seat.
In 2009 the troubled airline temporarily suspended flights after an alleged confrontation took place between airline employees and airport police who were attempting to deliver a citation to the airline's president. That was in relation to a fuel spill and alleged improper fuel storage at Maui airport. When the company resumed flights shortly thereafter, it cut service to all but three routes and increased prices.
Royal Hawaiian Air Service.
Rob flew this in 1980, and says it was quite incredible because of just how low they actually flew. He says these are flights that you would not sleep through because of the view. He recalls flying at altitudes of less than 1,000 feet. 
Royal Hawaiian Air Service (RHAS) flew between Kauai, Lanai, Maui, Molokai, and Oahu. The company began in 1963 as Hawaii Wings, an air tour operator, then as RHAS from 1965 to 1986. They operated Cessna 402 aircraft, that flew very low in order to provide flight-seeing as part of the transportation. They also flew to less trafficked Hawaii airports, including Kaanapali, Princeville, Port Allen, Hana, and Upolu (Big Island).
We look forward to your comments! Aloha.
Disclosure: We receive a small commission on purchases from some of the links on Beat of Hawaii. These links cost you nothing and provide income necessary to offer our website to you. Mahalo! Privacy Policy and Disclosures.