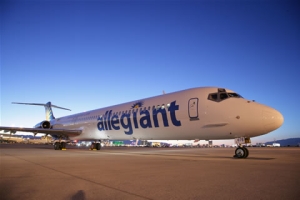 Updated: Sources indicate that the aircraft were bought on behalf of Allegiant rather than directly by Allegiant.  Allegiant is denying that they purchased the aircraft, which is likely technically true.
Allegiant Air may really be the new airline in Hawaii skies.
Three sources tell me that they have just purchased six Boeing 757-200 aircraft in the UK.  The planes are currently believed to be heading to Arizona for now.
On February 10, I first broke the Allegiant Hawaii news.
I discovered that their representatives were here in Hawaii to consider business opportunities.  On April 25, Allegiant proceeded to confirm their intentions to serve the Hawaii market, although no specific time frame was given at the time.
With the purchase of these new planes necessary to fly trans-Pacific, I predict Hawaii service will soon follow.
Allegiant will still need to pursue ETOPS certification in order to fly these twin-engine aircraft to Hawaii.  That will be costly and likely take a number of months or even longer.
Good news for the smaller cities served by Allegiant.
If you live in Las Vegas, Bellingham, Stockton, Fresno, Santa Maria and San Diego expect to see direct service to Hawaii on Allegiant.
The Las Vegas market will also be popular with Hawaii residents.  Allegiant Air remains focused on their signature, value-added hotel, car and attraction packages for an even better deal.
Allegiant flying to Hawaii can only be viewed as great news for Hawaii and our visitors.  Since the loss of ATA and Aloha, we've sorely missed the frequently attractive pricing and convenient airports that they served.
Disclosure: We receive a small commission on purchases from some of the links on Beat of Hawaii. These links cost you nothing and provide income necessary to offer our website to you. Mahalo! Privacy Policy and Disclosures.