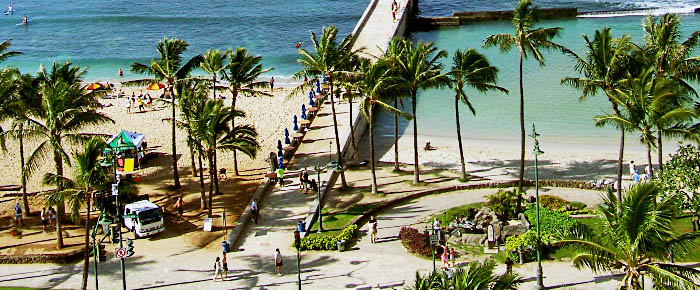 There is still no date set to resume all-important mainland tourism. Extreme frustration is emanating from all corners, while the rest of the country is in various phases of reopening. Hawaiian Airlines, the state's largest employer, and only flag carrier airline is now saying what they believe should happen next in order to reopen tourism.
This comes while Hawaii bound travelers for later in 2020 and beyond become increasingly frustrated and desperate for answers. We see that in comments and emails from you, travelers who rightly need to know now what is going to be happening. Also, in predictions that tourism will be down by perhaps 70% this year, and may now take through 2025 to recover! Either a plan is set now, or visitors will be rapidly canceling their Hawaii vacations well into the future.
The lead time to restart Hawaii travel according to airlines and hotels, is up to 60 days. Currently the 14-day isolation period keeps getting extended and is now through June 30. How can you even plan, not knowing what happens starting in July and thereafter?
Beat of Hawaii: visitor patience on lack of information has evaporated.
Hawaiian Airlines has been noticeably quiet and patient, at least publicly, during all the discussions of what it will take to resume Hawaii travel. But now they are stating what they believe should happen:
Hawaiian Airlines:
"Until tests become readily available to all who wish to travel, we believe a system of layered protections that begins with temperature screening at TSA departure checkpoints, continues with health and sanitization protocols at check-in and on-board the aircraft, and is followed by rigorous contact tracing post-arrival will be the most effective means of providing the confidence needed to re-open Hawaii." Hawaiian Airlines said they would like to see all screening protocols be part of a nationwide system.
Beat of Hawaii's concerns:
1. Temperature screening is of questionable value. Johns Hopkins just said "People may be taking over-the-counter fever-reducing medications (like Tylenol for headaches) that would alter the temperature reading by suppressing the fever… Fever screening can be one part of a wider system, but it's still unclear how much marginal benefit there is."
Hawaii is in the process of investing $36 million in funding on thermal camera scanning equipment.
2. A plan for reopening simply cannot wait. Muffi Hannemann, CEO of the Hawaii Lodging and Tourism Association said, July is critical and waiting say until September would "likely lead to defaults, foreclosures and bankruptcies." Not mentioned, is that these hotels contribute hundreds of millions to Hawaii's tax base.  Also, unemployment and other measures will soon come to an end, and we are looking down the barrel of sure financial catastrophe here in the islands. This hasn't quite hit home yet, but it is definitely about to.
3. Hawaii officials can't act decisively. The lieutenant governor just said that we might consider starting by opening tourism to New Zealand, Australia, and Japan first, while the governor said about reopening plans, "I just said, we don't have a hard timeline."
Are you planning a no-Hawaii vacation this year or waiting to see what happens next before deciding what to do?
Disclosure: We receive a small commission on purchases from some of the links on Beat of Hawaii. These links cost you nothing and provide income necessary to offer our website to you. Mahalo! Privacy Policy and Disclosures.