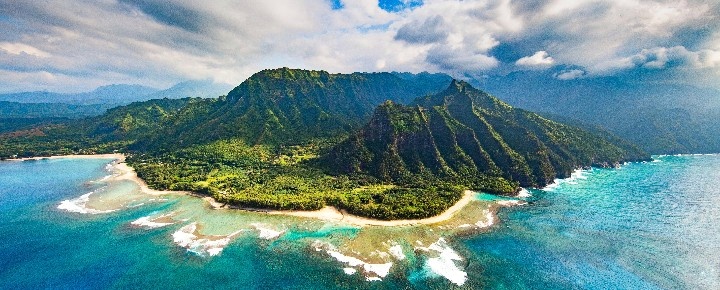 If you weren't aware, the number of active Kauai COVID cases jumped in the past few weeks from 1 on April 18 to 73 on May 3. That is, by far, the largest number of cases ever recorded here. It leaves those of us here and visitors too, very concerned and wondering what that might mean going forward.
Kauai now has the highest positivity rate of all the islands at 3.4 percent. Maui and Oahu are next at 2 percent, and the Big Island is .7 percent.
Yesterday alone, there were an additional 10 cases added on Kauai. The Kauai District Health Office said all of these 10 new cases are residents, not visitors, and the cases "Are considered community-acquired… Today's cases are all close contacts of previously announced cases or can be traced back to one of the locations announced yesterday… We are seeing increased cases in children (who) are getting infected by other family members." That per Dr. Janet Berreman, Kauai District Health Officer. Nineteen recent cases are located in Kapaa and Lihue, neither of which is a primary visitor accommodation area.
Two bars plus two gatherings are listed as the source of outbreak clusters.
The county said yesterday that two Kauai bar/restaurants were responsible for an undisclosed increase in new cases ."A number of our recent new COVID cases spent time at Rob's Good Times Grill in Lihue and/or Troy's Bar in Lihue between April 16 and 29, and we have evidence that disease transmission took place." Two additional community sources are a drive-in concert in Lihue last month and a show in Kapaa.
Could Kauai shut down to visitors again?
Anything is, of course, possible, and a COVID bill was defeated in the state legislature that would have required the entire state of Hawaii to adopt the same COVID orders. We do not, however, see a shutdown likely, such as what happened last December.
Kauai Mayor, Derek Kawakami, said last week that he had "Received a lot of questions on when we might need to move down to Tier 3… While moving down a tier is not imminent, we are certainly headed in that direction."
Kauai is in a different situation than it was last year. It now has a high percentage of vaccinated residents, with the health department reporting that more than 60,000 doses have been administered. That likely translates into 50% or more of those eligible having already been fully vaccinated.
Hawaii visitors, based on anecdotal information, including your comments, have also been widely vaccinated. In addition, all visitors must be tested 3 days before travel to Hawaii to avoid quarantine.
Largely unrelated to mainland travel.
Last week at least four cases were said to be related to interisland travel. We have not heard anything indicating new cases are related to mainland travel. Information from the County, however, is inadequate in that regard.
Your comments are needed.
Regular commentor Ed said this morning, "According to John Hopkins University Professor Dr. Marty Makary, more than 95,000,000 Americans are now fully vaccinated, and another estimated 100,000,000 carry the Covid-19 antibodies due to recovering from the virus, either from symptomatic or asymptomatic illness (it is now believed that asymptomatic cases have been grossly undercounted). That's getting close to 2/3 of the population of the United States."
Disclosure: We receive a small commission on purchases from some of the links on Beat of Hawaii. These links cost you nothing and provide income necessary to offer our website to you. Mahalo! Privacy Policy and Disclosures.