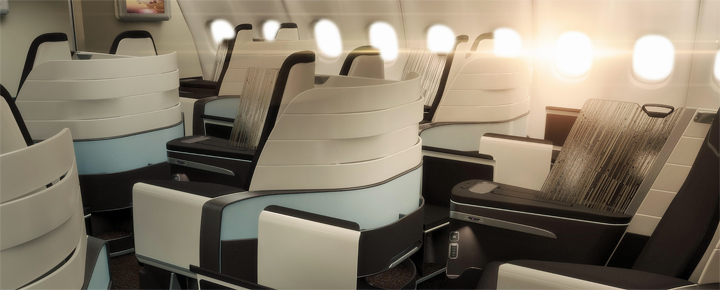 If you've wanted to fly premium on flights to Hawaii (okay, well who doesn't), but were not keen on the price tag, there's a new interesting option and a couple of other tricks that might help move you up to first. As you know free upgrades, even for premium flyers, are becoming ever more rare.
Options for upgrades. These paid include upgrades within 24 hours of travel which on Hawaiian can range from $379 to $819. You can also upgrade on airlines using frequent flyer points.
Virgin America and soon Hawaiian Airlines will offer bid-based upgrades. This is being done using technology partners including Plus Grade and Seat Boost.
How bidding for upgrades works.
1. Buy your economy ticket and hopefully score a great Hawaii deal courtesy of Beat of Hawaii email updates.
2. Go to the airline website where you manage your reservations and there will be a link in the future to begin the upgrade bidding process.
3. Some airlines will send out an email within a few weeks of your flight inviting you to inquire about bidding.
4. Decide what you're willing to pay and each airline will set minimum bid requirements. Options may also include staying in coach but having a middle seat unoccupied.
5. Submit your offer and provide payment details in the event your bid is accepted.
6. Airlines decide when they accept offers, but this could occur from one to seven days in advance of your flight.
Other tricks.
Alaska Airlines 24 hour upgrades. A relative steal between the US mainland and Hawaii, when available these are priced at only $150. The trick here is to be online at exactly 24 hours in advance of your flight.
Just ask. It may not work, but if you're celebrating something, or are too large, tall, or are pregnant as examples, it never hurts to ask. Dressing nicely is always a good idea too, and being polite. None of these can do anything but improve chances.
What do you think?
Is bidding for upgrades something you might consider?
Do you have any other tricks for getting upgraded?
Disclosure: We receive a small commission on purchases from some of the links on Beat of Hawaii. These links cost you nothing and provide income necessary to offer our website to you. Mahalo! Privacy Policy and Disclosures.