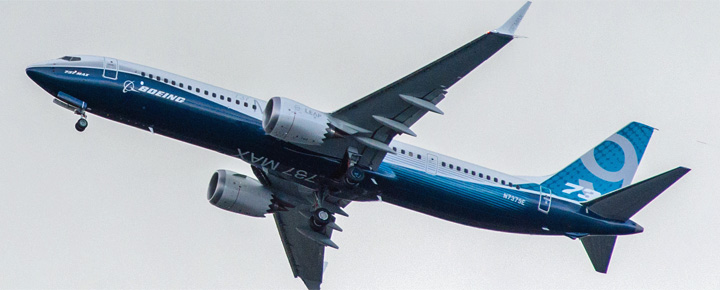 More nagging issues could well extend the already long absence of Boeing 737 Max flights to Hawaii. Max planes are considered integral to more Hawaii routes being added by Southwest, and other airlines.
All airlines have taken the new planes off their schedules until June at this point, suggesting the return may be in the 2nd half of the year at the earliest. The FAA said Friday, however, that flights could technically resume sooner.
And in the meantime, we, Joe Public, are still asking ourselves if we want to get on them at any time soon, no matter what the airlines and the FAA do. 
Of the airlines that fly from the US Mainland to Hawaii, Alaska Airlines, American Airlines, Southwest Airlines and United Airlines are all Boeing "Max" customers. As a point of clarification, the only planned Max flights to Hawaii we are aware of are to be on Southwest Hawaii Max 8.
Alaska Airlines:

The company has ordered 32 of the 737 Max 9, and they are scheduled to begin service on the mainland with those mid-year at this point.
American Airlines:
American Airlines has 24 of the Max 8 planes in service and 76 on order. They are off-schedule until June.
Delta Airlines:
No Max aircraft are in their fleet.
Hawaiian Airlines:
Hawaiian has no Boeing Max aircraft in their fleet and they have none on order.
Southwest Airlines:
Southwest has 34 Max 8 that were in service prior to the grounding and 245 more on order. At this time, all of the current Southwest Hawaii flights are using the company's 737-800 aircraft. The company said that the Max problems cut income by over $800 million in 2019.
United Airlines:
They have 14 of the 737 Max 9, with 71 on order as well as 100 Max 10 planes on order. The company said in their recent earnings call, "Can't tell you how long the MAX will be grounded."
Boeing: The manufacturer is now recommending pilots receive flight simulator training before the grounded Max planes return. That is a complete reversal of their position that only computer-based training was needed. Simulators are of course in high demand, and it could take months for that process to be completed at Southwest, which owns 34 of the planes. Boeing said they "Are currently estimating that the ungrounding of the 737 MAX will begin during mid-2020."
FAA: On Friday they met with US airlines and said they have not yet set a time frame for completely re-certifying the aircraft, according to a statement from the agency. "Safety is the top priority, and the FAA continues to work with other safety regulators to ensure that Boeing has addressed all known issues with the aircraft."
Updated 1/27/20.
Disclosure: We receive a small commission on purchases from some of the links on Beat of Hawaii. These links cost you nothing and provide income necessary to offer our website to you. Mahalo! Privacy Policy and Disclosures.