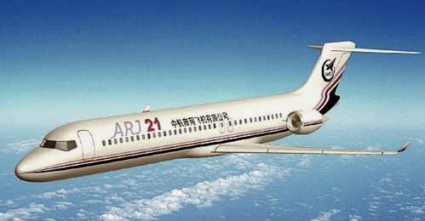 I'm fascinated by developments in the global civil aviation industry, and wanted to share what I'm learning with you. Since I first wrote about China's commercial aircraft aspirations 1 1/2 years ago, they have greatly accelerated their efforts.
China already has an Airbus A-320 assembly line in full operation at Tianjin. This past June that facility delivered its first completed airliner.
Last week, China's commercial aviation industry picked up a good deal more steam with these announcements:
1.  Brazilian aircraft manufacturer Embraer's announced that they will manufacture their E-190 120 seat jet in China under an agreement with China's AVIC.  As a result they will close down their own E-145 production line.
2.  Next, and of greater interest, General Electric just signed on to supply the avionics (brains) for China's new planes through a joint venture with AVIC.  GE seems to take China's entry into the prior Boeing Airbus airliner duopoly very seriously.
"This market is huge, and the Chinese aviation industry likely over the coming decades will be one of the biggest, if not the biggest, of the world." This according to General Electric CEO Jeffrey Immelt.
Other commercial jets being produced in China include:
ARJ-21 regional jet.  The 70-105 passenger plane just completed its first long-range test flight and is expected to be available for deliveries starting next year.  That jet had original design elements from McDonell Douglas, and so resembles to a large degree the DC-9/B-717 family.  Orders were primarily from Chinese carriers, although General Electric Commercial Aviation has a confirmed order for 5 planes and an option for 20 more.
C919 mid-size jet.  This 168-190 seat narrow body jet, similar to the A-320, will be China's largest airliner to date, and is expected to enter service within 5 years.