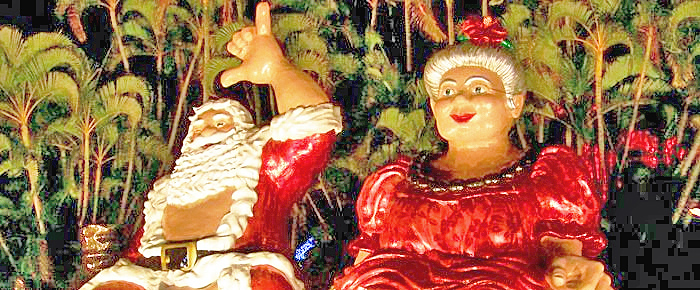 With snowstorms and freezing cold weather soon to be approaching the mainland, Christmas in Hawaii is about as far from a traditional White Christmas as you can get. And for most of us, that's a good thing. Then too, this will be a very different holiday season, given being in the midst of a pandemic. Visitors are still arriving, courtesy of the Safe Travel program and December has always been and remains one of the most popular (and expensive) times of year to visit Hawaii.
Christmas Day in Hawaii includes many traditions, our personal favorite of which is swimming in the ocean and some quality time spent relaxing at the beach. Other Hawaii Christmas traditions include beautifully lit homes, garage parties (perhaps largely suspended this time around), boat parades and ubiquitous Hawaiian Christmas music.
Idyllic weather. The weather in Hawaii is almost always great. At the holidays it is still generally beach weather during the days, albeit somewhat cooler at night. That's why locals flock to the beaches during the holidays and we hope you can soon too.
Enjoy our wildlife in winter.
You can enjoy viewing fauna in Hawaii year-round. That includes spectacular birds, endangered sea turtles and Hawaiian monk seals. But at this time of the year (from fall through early spring), humpback whales are found here too. They can be seen on all the islands, and are a sight not to miss. There is always an abundance of opportunities for free whale watching in Hawaii.
What's Happening Around Hawaii.
Honolulu City Lights, which opened this week, is a major, festive community celebration that's been going for three decades, and has always featured a grand display of trees and wreaths, live entertainment, contests, a parade, and more. This year is of course different.
Drive-by viewing at Honolulu Hale is taking place through Sunday, December 27. Enjoy displays that include Shaka Santa and Tutu Mele at Honolulu Hale (pictured here), a 50-foot, decorated Christmas tree, and the building itself adorned with decorations.
There is also picture taking in front of the displays which is being allowed with social distancing.
Online and virtual events are planned but have not yet been announced. There is online shopping including the annual City Lights ornaments.
Beat of Hawaii has been a regular participant at the Festival of Lights on Kauai for decades. Unfortunately, this year, the event, including the annual best-in-class parade, has been canceled. There is, however, viewing of the decorated historic county building.
On Maui, the enormous nearly 150-year-old banyan tree is illuminated with thousands of holiday lights for the 23rd consecutive year. Enjoy it nightly from 6 to midnight through December. This is the largest banyan tree in the country.
There is normally a Waimea twilight parade on the Big Island. This year it has for the first time gone virtual. Participants can submit videos of up to 20 seconds sharing their home, office, or vehicle decorations. Those will be edited into a long video accompanied by Hawaii Island artists and will be on Facebook and Instagram from December 20.  Check it out here.
First Christmas in Hawaii
The first known Christmas in Hawaii occurred in 1786, here on Kauai when a merchant ship was anchored and the crew celebrated Christmas with roast pig. While merchant ships have been replaced by Matson container ships, the tradition of roast pig continues to this day.
Before westerners arrived, Hawaiians enjoyed Makahihi, a winter festival that prohibited all wars. Lasting from about November to February, work stopped, offerings were made and feasts, dance, sport, and other celebrations occurred.
However you plan to celebrate the holidays, enjoy.
And from the Beat of Hawaii, we wish you Mele Kalikimaka, Hau'oli Hanukaha, and Hau'oli Makahiki Hou. 
Beat of Hawaii photo at Honolulu Hale/Honolulu City Lights.
Disclosure: We receive a small commission on purchases from some of the links on Beat of Hawaii. These links cost you nothing and provide income necessary to offer our website to you. Mahalo! Privacy Policy and Disclosures.