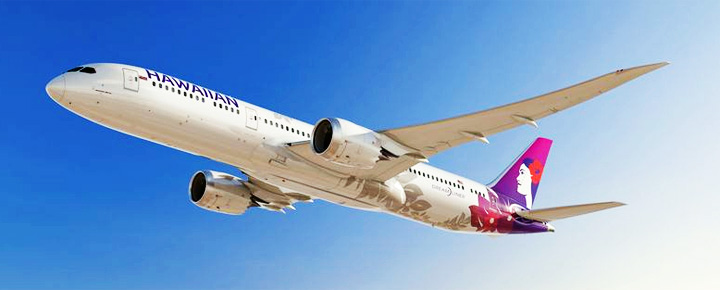 First, Kudos to Hawaiian Airlines and those who assisted them yesterday during this nightmare-inducing event. It occurred when a crazed passenger repeatedly tried to open the aircraft exit door mid-flight between Los Angeles and Honolulu. Luckily, the door remained sealed. Oh hells bells, as if we haven't had enough travel trouble yet.
The passenger was taken into federal custody after the flight crew and an off-duty police officer were able to subdue the man.
The incident took place on a nearly full flight, with 205 passengers and crew on board the Airbus A330-200. The plane departed Los Angeles at 10:04 am and landed safely in Honolulu at 12:58 pm.
Why airliner doors can't be opened in-flight. 
Luckily for all aboard, aircraft cabin doors are designed so that they cannot be opened in flight. Lest we forget, for those of you old enough, the infamous D.B. Cooper jump back in 1971. Bring back any memories?
This isn't, however, even close to the first time a passenger has attempted to exit an airliner midair. The list of incidents is actually quite long. While the idea of being sucked out of an open aircraft door midair is sure to arouse chills in the best of us, luckily the risk of the door actually being opened is virtually non-existent.
First, aircraft doors are mechanically locked and controlled by the flight crew. The door is secured prior to take off. Do you recall after the plane has landed and is approaching the gate, the pilot will say "doors to manual." A passenger could open a door only after that occurs.
In addition to the locks, the cabin pressure also seals them closed. Doors cannot open because the inside cabin air pressure is much greater than the outside air pressure. Thus, the doors are sealed against the aircraft frame.
An investigation of the incident is underway and it is not clear yet what charges may be brought.
Photo of Hawaiian Airlines' Boeing 787 Dreamliner. The company is now rescheduling its first deliveries of the new fleet for 2022.
Disclosure: We receive a small commission on purchases from some of the links on Beat of Hawaii. These links cost you nothing and provide income necessary to offer our website to you. Mahalo! Privacy Policy and Disclosures.