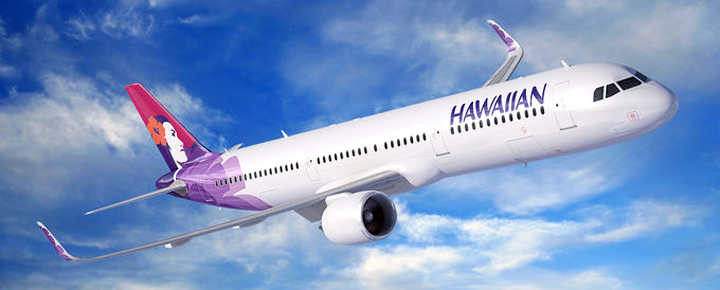 Hawaiian Airlines has been on a fleet replacement and expansion tear. It still has two big gaps to fill soon. But first, here's a question: Would you be willing to change flights in order to fly on a Hawaiian Air wide-body plane rather than fly on a narrow-body aircraft? 
Enters Hawaiian Air Boeing 787-9 ultra long-range fleet. 
After a failed attempt to move to a brand new and never actualized aircraft variant, the Airbus A330-800, the airline abruptly shifted directions early in 2018 to go Dreamliner. It also re-upped on its long-time relationship with Boeing. Deliveries of an initial 10 aircraft 787 Dreamliner fleet is set to begin in 2021. The company also has options on another 10 planes.
At the time, we said, "We love Dreamliner for the spacious feel, larger electronic control windows, lower altitude pressurization and much more. Theses planes also bring Europe, Southeast Asia, and Western Australia into range to and from Hawaii for the first time."
There is much that we don't yet know about these new planes. How many seats will they have in each cabin/class for example? We do know that the company partnered with Boeing and Adient (world leading automotive seat manufacturer) to significantly improve its business class offerings. Economy and premium economy seating will be from Collins Aerospace, known for lightweight, comfortable and "spacious" economy class seating.
If our predictions are right, first to see these new planes may be routes Down Under to Australia and also to Asia. Thereafter Hawaiian Airlines will undoubtedly finally try London to Honolulu. That's good news for those of us here in Hawaii and the many Brits looking for a Hawaii beach getaway. In case you're wondering that is about 14 hour flight.
A330 remains the backbone of Hawaiian Airlines aircraft.
The Airbus A330 fleet entered service starting in 2010. For the next 8 years the company gradually replaced the entire mixed fleet of Boeing 767 aircraft, which they had obtained both new and used, from a variety of sources, over the years.
The 274-passenger A330-200 wide-body aircraft remain highly desirable, with double aisles and room to move around, and is very well regarded in terms of passenger comfort. The company has 24 of these 278 passenger planes.
Narrow body flights have taken over most mainland cities.
Starting January 8, 2018, Hawaiian began using their new Airbus A321neo fleet. This changed the competitive environment for the company, allowing them to fly on more routes with ultra fuel efficiency. Beat of Hawaii authors Jeff and Rob were on-board that Hawaiian Airlines A321 inaugural flight, and provided a trip report. The company now has 15 of these 189-passenger planes operating and will take delivery of 3 more by next year.
Whether we like it or not, single-aisle aircraft are what you can generally expect from all airlines on flights to Hawaii going forward. As prior CEO Mark Dunkerley stated, "the new (A321) aircraft will free more wide-body aircraft for further long-haul expansion."
Most of the A330 Airbus fleet has been or will be moved to either 1) international routes, 2) long-haul routes (Boston, New York, etc.) or 3) very high density routes (some flights from LAX, SFO, etc.).
The A321neo, which is ultra popular with airlines, is considered the perfect industry solution for nearly all western US to Hawaii flights. We can't overstate how important this plane is to the company. The A321 is transforming Hawaiian Airlines inasmuch as, for the first time, they are able to compete on less trafficked routes from the West Coast. With this plane, flights from cities further afield such as Salt Lake City, and Denver, for example, may also be viable.
Competition is getting hotter – there's no doubt.
With the new narrow-body fleet, Hawaiian goes head to head with other airlines currently offering narrow body flights direct to all of the islands. This includes Alaska Airlines, American Airlines, Delta Airlines, Southwest Airlines and United Airlines. And, with the Dreamliner fleet, Hawaiian better competes with airlines in the Asia/Pacific region and opens new possibilities that never existed.
Inter-island fleet will be the last to renovate.
We'll leave this for later, but the now aging 717-200 inter-island fleet will need to be replaced in the not distant future. The 20 planes will move to the end of their viable lifespan over the next handful of years. A more fuel-efficient aircraft type, which is also capable of day-in, day-out inter-island short hops, will then find its way to Hawaiian Air.
Photo of Airbus 321neo.
Updated 10/14/19.
Disclosure: We receive a small commission on purchases from some of the links on Beat of Hawaii. These links cost you nothing and provide income necessary to offer our website to you. Mahalo! Privacy Policy and Disclosures.