A recent report on DVT in the Annals of Internal Medicine, warns travelers that on flights of over 4 hours, the risk for developing this potentially fatal problem increases three fold.
This study represents the first research which supports the previously theoretical relationship between air travel and DVT. More research is pending on the prevention aspects of DVT.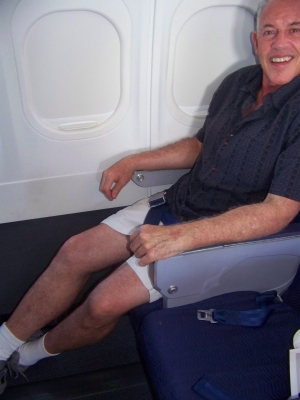 Deep Vein Thrombosis (DVT), also known as VT and VTE, is a blood clot.
It forms in the legs and can then travel to the heart or lungs.  While the chances of developing VT are still small, there are precautions well worth taking.  Here's what I found that's consistently recommended:
Help avoid DVT while flying:
1.  Drink water.  Hydration thins blood, making clots less likely to occur.
Reality: Don't depend on your flight attendant to keep your water glass filled unless you're in first-class.  Economy travelers need to bring their own.
2.  Avoid coffee and alcohol, which have the opposite effect as water.
Reality:  I think moderation is the key.  If I don't get my morning coffee, it's bad to be sitting next to me.
3.  Get up and walk around whenever possible to increase circulation to the extremities.  If that isn't possible, curl or press down your toes and flex your calf muscles occasionally throughout the flight.
Reality: Pick an aisle seat.  Otherwise it's hard to stand up once every hour.
Lifestyle recommendations that prevent DVT

Exercise regularly.
Manage weight and blood pressure.
Don't smoke.
Consider alternatives to birth control pills and hormone-replacement therapy.
Here are warning signs of DVT:
Pain, tenderness or swelling in legs
Discoloration or redness
Skin is warm when touched
For more information, check out the Coalition to Prevent Deep-Vein Thrombosis.  Their spokesperson, Melanie Bloom, was the wife of NBC newsman David Bloom, who died from DVT complications while in Iraq.
PS:  It won't hurt to have more leg room in order to be able to stretch and get in and out of your seat easily.  In this case, I knew about and opted for row 4 on Hawaiian Air's inter-island 717 aircraft.  It's normally reserved for disabled passengers but you can make a seat request for this row at the gate.
Disclosure: We receive a small commission on purchases from some of the links on Beat of Hawaii. These links cost you nothing and provide income necessary to offer our website to you. Mahalo! Privacy Policy and Disclosures.