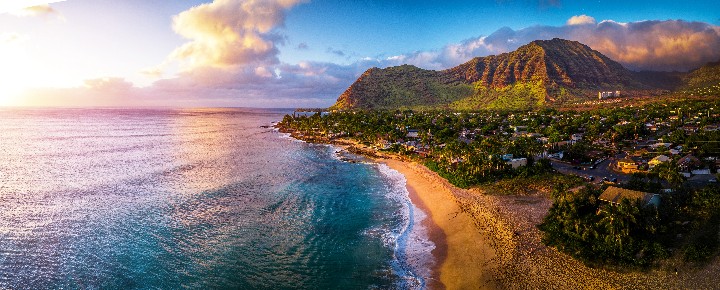 Governor Ige confirmed twice in the past week that vaccination passports for Hawaii travel will be announced imminently. Plans are to be in effect for travel, without any COVID testing, by July 4. He said, "We do know the CDC guidance that there's little risk. We know that we have to get there. We have to be able to allow vaccinated travelers to come here transpacific because that will help us get more people back to work."
You might wonder, what's the magic of July 4. Well, not stated but obvious to all of us here, the mid-summer season that starts just before July 4 and runs through mid-August is critical to Hawaii's overall financial well-being.
Masks in Hawaii will now be short-lived too.
The governor and others were surprised by the latest CDC guidance that largely eliminated mask recommendations. Nonetheless, Hawaii is now preparing to change all that. By mid-June, based on what the governor and others have just said, Hawaii will come into alignment on eliminating masks.
Other last hold-outs on mask mandates have included California, scheduled to end June 15, and New Jersey, which just announced theirs would end this week.
CommonPass Hawaii remains destined to be the Hawaii vaccination passport.
While still in a pilot rollout for Hawaii-bound visitors, it has not been updated since we last wrote about it. It is nonetheless where Hawaii is headed. This was developed in concert with the Hawaii Safe Travels Program. When completed, it will let visitors access lab options across the United States to satisfy both proof of vaccination results and negative COVID-19 test results for those not vaccinated. In addition, there is no cost for the app or its usage. CommonPass is awaiting deployment with more airlines, locations (like Hawaii), testing partners, and vaccination results.
CommonPass Hawaii still does not include Hawaii vaccination passports.
In its trial program, this is exclusively for COVID test results. Participating airlines and routes remain unchanged. Eligible flights are Hawaiian Airlines between Phoenix and Honolulu (use invitation code: HAWAII) and United Airlines between Denver and Honolulu, Kona, Lihue, and Maui (use invitation code: UNITED.
To try CommonPass, you will first download CommonPass from one of the two phone app stores. You can also download it from the CommonPass Hawaii website. Again, there is no charge for the app or its usage.
Using CommonPass is a bit confusing at this point, but we were told this process would be streamlined. Visitors must still register with Hawaii Safe Travels once they have made reservations. Those under age 18 will be included in an adult's Safe Travels form. Then use the CommonPass app to generate your CommonPass ID. On the "Trip Details" sections of the Safe Travels website, go to the section entitled "Exemptions." There you will use your CommonPass ID as the exemption.
Your CommonPassID is a 32 digit code found beneath your CommonPass QR code. Tap the copy symbol to capture the ID, paste that into Safe Travels and select "Verify."
Once it has been verified, you can add other travelers if needed. Also, within 24 hours before departure for Hawaii, you still need to complete the Hawaii Safe Travels health questionnaire.
Hawaii vaccinated resident exemptions still in effect for now.  
In another pilot, Hawaii residents, vaccinated in Hawaii, and traveling interisland, not from the mainland, are eligible to avoid other testing requirements. However, children from 5 years to vaccination eligibility age will still be required to continue pre-travel testing to avoid quarantine.
Important note: Those traveling interisland (except to Honolulu) who are not exempt per this limited pilot are still required to test within 72 hours of interisland travel.
What if CommonPass isn't ready?
Passports may not be ready for Hawaii's roll-out timeframe. According to Green, if that is the case, a photo of travelers' vaccination cards will still be required. Those will be uploaded to the Hawaii Safe Travels website. On arrival, passengers may also be required to present the actual cards for inspection. Vaccinations will be required to have been completed vaccination at least 14-days before traveling.
For today, current COVID travel rules will remain in effect until we hear from the governor.
Those same rules will continue thereafter for those who choose not to be vaccinated. However, Hawaii officials have said that vaccinations will only be an option, not a requirement.
Revised on May 24, 2021.
Disclosure: We receive a small commission on purchases from some of the links on Beat of Hawaii. These links cost you nothing and provide income necessary to offer our website to you. Mahalo! Privacy Policy and Disclosures.