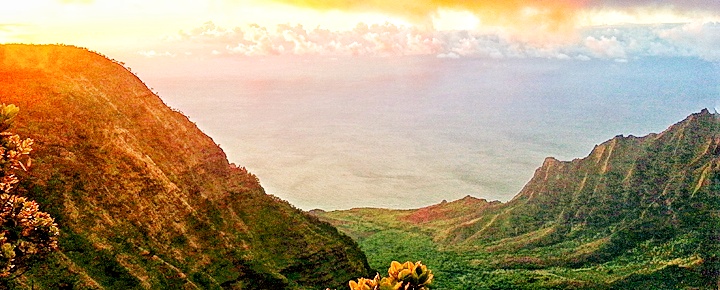 By any measure, this will go down as an unfathomable year in so many ways, here in Hawaii and globally. For all of us Hawaii aficionados, it has been a tumultuous time. The relationship with visitors has and is being tested in ways we've never seen before. And that continues to be the case.
While it is painfully obvious that tourists need to return to Hawaii to prevent further financial ruin, we also know that the amount of tourism Hawaii has had isn't sustainable in the long term. Things will need to change. And yet, there is nothing even remotely on the horizon to replace or even significantly augment tourism in Hawaii's fragile economy.
Hawaii tourism numbers tanked.
As of last month, Hawaii had seen just over 2 million visitors instead of the previously anticipated 10+ million for the year.  Together with that devastating figure came the highest unemployment rate in the country.
Just yesterday, Governor Ige announced the first round of what will be years of furloughs for state government workers. Also, more businesses have closed than we are able to keep track of, with some being surprises, and others not. This is just the beginning, and then too, we have witnessed unprecedented infighting at all levels.
Governing by edict or consensus.
Hawaii's governor has flip-flopped on how to manage both COVID-19 and tourism. He is not a tourism person by training or experience, and unfortunately, that shows. At times he has given great latitude to the islands' mayors to make their own decisions. Yet recently, he has taken that control back, saying both that the mayors may not make their own decisions without his explicit approval, and that, for example, the Safe Travels program will be defined by a single set of statewide rules rather than island by island. It leaves us shaking our heads in wonder as to what comes next.
Fewer crowds at a severe cost.
With all the negative aspects of a missing economy, there were some positives. One example is Hanauma Bay, and the coral reefs around the state too. Your editors spent the summer swimming at Hanalei Bay, where during the week, we were frequently the only people in sight.
Instead of rental cars adding to the islands' congestion, these have largely remained parked at Macy's and other unlikely places.
Us vs. Them. Misplaced.
Tourists remain the only economic lifeblood at this time. We wrote about how Hawaii residents feel about tourists a few months back and had tremendous input from you. In normal times there are 10 visitors to each local and that's a lot. Also, locals like it when tourists respect island culture. And, even though we can feel overwhelmed sometimes by tourism, we don't want to bite that hand that feeds us. The vast majority of working island residents are connected directly or indirectly with Hawaii tourism.
That's where good communications and marketing go hand in hand. Visitors are getting the feeling that they aren't really wanted. Oddly, the people visitors mostly engage with, the travel stakeholders, don't feel that way at all.
Locals have wanted to blame tourism for covid, which from everything we hear from the state, is not really the case. Since the early stages of the pandemic, residents have been concerned that there may not be enough ICU beds if tourism was allowed to continue. Unfortunately, that resulted in bad feelings all the way around.
Issues visitors report include the ongoing threat of quarantine for approved, "trusted partner" tests not being returned in time. Then there was the sudden shutdown of Kauai travel, which left countless visitors hanging. The prospect of more and perhaps unexpected changes to the Safe Travels rules continues to leave people wondering if their vacation could be canceled.
Hawaii tourism – friend or foe?
Back in the day, tourism was largely seen as a great thing for Hawaii's economy. What happened, however, is that all other industries in Hawaii have since failed. Virtually every attempt to move away from a solo tourism economy has not panned out. Hawaii will have to rethink alternatives while at the same time relying on tourism for the foreseeable future.
From the time of statehood until now, tourism grew from the 4th biggest industry to the largest by far. Since the 70s, military spending, sugar, and pineapple industries have all been eclipsed.
The state has tried repeatedly to kindle job growth in non-tourism, but it has never panned out. One example is that of high tech, which in spite of tax credits up to 100% of investment that were offered, turned out to be a complete boondoggle.
Instead of diversifying, the state has developed new tourism markets and not new industries. Examples of those, which have been largely spawned by the private sector again, include Australia, and Asia. And soon, courtesy of Hawaiian Airlines, there will be Europe.
Any efforts to move Hawaii to a more balanced economy will be far off and years away. Hawaii needs to have a great education system among other things to grow and diversify. Also, Hawaii is always rated as one of the if not the worst states in the country in which to do business, and that too needs to change.
Marketing Hawaii.
This has never been simple, but Hawaii previously was marketed without much help from the state due to its very nature. With our epic beaches, generosity of spirit, beautiful scenery, and near-perfect climate, Hawaii tourism and its post-COVID return once again seems like a natural.
Hawaii's success has been driven almost exclusively by the private sector, which began with the airlines and the jet era. That exploded exponentially with more competition and cheap airfares starting nearly 50 years ago.  Since then, visitor numbers exploded from a quarter million per year to over 10 million per year.
Even though Hawaii has had a state marketing wing for over 100 years, it has never been very effective. That began at a time when sugar was the primary industry of Hawaii, and tourism was still new and seen as a way of, among other things, weaning depending on agriculture.
Please let us know your thoughts! Mahalo in advance. 
Disclosure: We receive a small commission on purchases from some of the links on Beat of Hawaii. These links cost you nothing and provide income necessary to offer our website to you. Mahalo! Privacy Policy and Disclosures.