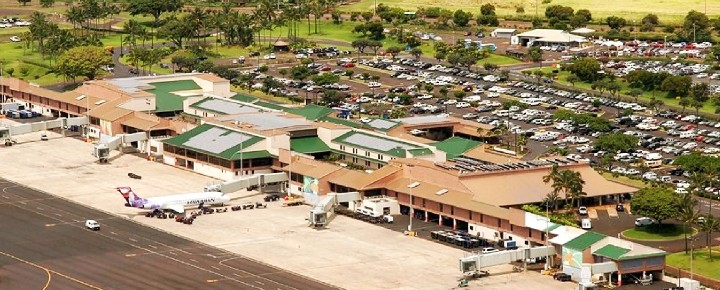 News from the Hawaii Department of Transportation yesterday is worth noting for visitors and residents who want to park at our island airports. And, a common arrival trick we've used ourselves may no longer work. This comes as visitors and residents all gear up to return to Hawaii vacations as Safe Travels sunsets next week on March 26. Unprecedented demand both at spring break and throughout the summer peak season is all but certain.
Hawaii airports have always suffered from overcrowding. Peak summer, prime weekends, and holidays are a time when parking is iffy. And now one airport parking lot is the first to be declared completely full. Read more below.
Prior arrival parking tip in doubt.
One trick that we and countless others have tried is no longer a sure thing. When several people arrive together, and they have substantial luggage, even golf clubs, this worked great. One person would go and get the rental car. The other people would get the luggage. The rental car could be stored in nearby parking (not so much at the non-adjacent CONRAC at HNL) while the other passengers claimed luggage. Then everyone could meet up in the parking lot and help get things underway.
Has Turo become part of the airport parking problem?
One question that comes to mind is whether or not Turo cars parked at the airport could be part of the congestion. It's our understanding that Turo owners sometimes park cars at the airport to prepare for renters' arrivals. See an actual example of that below. To the degree that may be true to a larger degree, it could be compounding the problem at Hawaii airport parking.
Turo says that "some airports where you offer delivery may take the position that you must have a permit to use airport premises and remit fees. While Turo does not believe that rental car permits should apply to peer-to-peer car sharing, not all airport authorities agree with this position." Read on for what Hawaii thinks about all of this.
An interesting case in point here.
A Kauai listing we just found on Turo said, "Skip the rental car shuttle and line! We will provide FREE delivery to the Lihue Airport. The car will be waiting for you in the ABM Airport Parking Lot which is just a short walk across the street from the baggage claim/terminals. Please expect to pay no more than $15 (max) payable to ABM Parking upon pickup. ABM Parking accepts cash or credit card. This makes contactless pickup and drop-off easy and quick for you!
That means that the car might have been parked for up to 24 hours in the very limited airport parking. We aren't sure that's legal, and we also don't have any idea how that could be regulated without an entry booth where an attendant might check boarding passes.
Hawaii is clearly looking at limiting or banning Turo. Read In Pursuit To Ban Turo Hawaii Rentals Permanently.
Kauai LIH Airport parking is full.
The state said yesterday that "public parking at Lihue Airport (LIH) is full." While the state thinks that parking may become available again following spring break, we're not so sure. Airport parking looks to be getting worse, much worse.
On Kauai, the state asked that those traveling be "dropped off at the airport to ensure they have enough time to clear security and board flights," since the 675 available parking stalls are now occupied.
New Car Rental Facility at Honolulu Airport Now Open
Here are all the details of the New Car Rental Facility at Honolulu Airport Now Open. At Honolulu, the new consolidated car rental facility features more than 5,000 parking spots. An additional 700 HNL parking spots were just added in the past few weeks.
Disclosure: We receive a small commission on purchases from some of the links on Beat of Hawaii. These links cost you nothing and provide income necessary to offer our website to you. Mahalo! Privacy Policy and Disclosures.