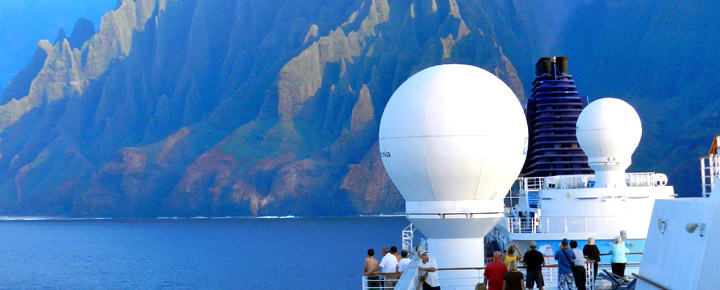 We learned today that Disney has already scheduled Hawaii cruises for 2021. But here's what we don't know. How is all that going to work. Ugg.
Commenter Sally G pondered, "We're scheduled to leave on a cruise from San Francisco on 12/23 to Hawaii, with 5 sea days before arriving in Hilo. next day Maui, then Kauai, then Oahu. How does this one day in each port itinerary work with the testing requirements? Are the ports open?"
Good questions Sally. We don't have any information yet about Hawaii ports. When they will open and what additional tests may be required for passengers is not set.
No sail order now scheduled to expire on October 31.
The CDC said previously that up to 4,000 cases and more than 40 deaths were attributable to cruises in US waters earlier this year. At this point, we have seen no indication of whether this no sail order will be extended again or not. The order applies to ships carrying 250 passengers or more. Uncruise, which has small ship Hawaii itineraries, is set to resume sailing on December 5. That will depart Kaunakakai Molokai. Rob and Jeff were able to cruise with them some time ago.
Many of the cruise line websites have not been updated and do not reflect when they actually plan to resume Hawaii cruises. We expect that will all chance whenever the no sail order expires.
What each Hawaii cruise line is planning.
Carnival Cruise Lines has canceled its Hawaii cruises through the end of the year. Line president Christine Duffy said, "As we have said throughout this pause, our return to operations will be gradual and phased in."
Celebrity Cruises has canceled all sailings through November 30. The company said last week, "As we work with the CDC and others toward this shared goal, Royal Caribbean Group will be extending the suspension of sailings to include those departing on or before November 30, 2020."
Holland America has canceled sailings through December 15 although it appears that Hawaii itineraries will be paused until later, possibly early 2021.
Norwegian Cruise Lines. The only all-Hawaii cruise operator is renowned for its 7-day Honolulu round trip cruise that normally operates weekly. The company said last week, "We are extending the suspension of 2020 cruises to include all cruises embarking through November 2020. The first Hawaii cruise is on their schedule beginning December 5.
Princess Cruises does not plan to resume cruising until December. Their schedule shows a 15-day Hawaii cruise from Los Angeles and another one from San Francisco, departing December 21 and 23.
Big changes ahead on Hawaii cruises. 
Two major cruise lines, Royal Caribbean and Norwegian have just submitted 74 new health and safety protocols to the CDC as part of the agency's process on safely resuming cruises. All passengers and crew will be tested for COVID-19 before embarking and will be required to wear masks and practice social distancing onboard. Ship medical facilities are also to be expanded.
Other plans include improved ventilation and more limited shore excursions. BOH: since Hawaii cruises are all about shore excursions, this is a big question mark.
NCL's CEO recently commented when asked about resuming cruises, that it was "absolutely" safe to do so. "There is not one silver bullet, it's layer on top of layer on top of layer. We're going to test it, make adjustments along the way."
CDC commented however that it "does not have enough information to say when it will be safe for cruise ships to resume passenger operations. CDC will continue to work with cruise lines to ensure that all necessary public health procedures are in place before cruise lines begin sailing with passengers."
It will take cruise lines about a month to get ships ready to sail again.
Recommendations for changes from the cruise line industry include the following:
All passengers should be tested for COVID-19 between five days and 24 hours prior to boarding.
Crew should be tested in their home countries before leaving to join a ship and then again at the end of a seven-day on board quarantine period, ideally using PCR tests.
Both passengers and crew should have their temperatures taken daily.
Cruise companies should visit only ports that agree to evacuate and repatriate sick people on board. BOH: how can that work on neighbor islands?
All ship heating and air-conditioning systems should be upgraded to MERV 13 filters, similar to those used by hospitals.
Ships should lower doctor-to-passenger ratios on board.
Crew should live in single cabins whenever possible and be allowed limited shore leave.
Passengers who don't attest that they agree to protocols not be allowed to cruise.
Earlier in the pandemic, the concept of asking passengers over 70 years old to not sail was brought up. That plan was rejected.
PS: One final thought. What will become of the beloved cruise ship buffets?
Beat of Hawaii © photo aboard NCL Pride of America.
Disclosure: We receive a small commission on purchases from some of the links on Beat of Hawaii. These links cost you nothing and provide income necessary to offer our website to you. Mahalo! Privacy Policy and Disclosures.