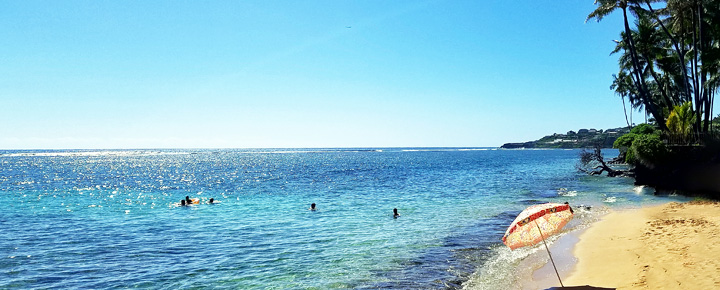 You've saved long and hard for a Hawaii vacation. The last thing you want to do is to waste your money. Our annual Hawaii rip off report lists some of the top ways to avoid problems and save money. These are from our own personal experiences.
Moreover, we make all of this a fun game, so it isn't a hassle. And we've got space for you to add your ideas to our Hawaii rip off report below.
1. Overpriced Hawaii restaurant meals and drinks.
It's very easy to pay too much and enjoy too little, when it comes to Hawaii restaurants. While there are many exceptions, buyer beware.
Tip: Check restaurant websites for specials. Check Yelp too. Try eating your main meal at lunch when even expensive restaurants are likely to charge far less than in the evening. Also look for early bird specials. Have a cocktail at that beautiful beachfront dining spot and eat dinner in your condo or somewhere less expensive. Shop at farmers' markets or stop at local produce stands.
2. Hotel restaurants and buffets.
Hawaii buffets were once a great value with wonderful food. Those days are gone. On the subject of hotel restaurants, we all know that they are, generally speaking, too expensive for what you get.
Tip: We tend to avoid hotel restaurants and buffets, due to extreme cost and questionable value. Always double check before committing to these. 
3. Extra airline fees. 
Airlines charge for a range of extras. These include blankets/pillows, checked luggage, food (not Hawaiian Airlines,  American Airlines or Delta Airlines), and more.
Tip: Determine what you may need in advance and see what's included. Consider bringing your own. 
4. Accommodations without a basic kitchenette.
If you have no way to prepare even the simplest of meals, it means you could be eating all meals out. This is costly and at times downright inconvenient.
Tip: It is quite common to find refrigerators and even microwaves in Hawaii hotels. These come in handy in so many ways, both saving you money and time to do the most important things on your Hawaii bucket list. 
5. Cars from unreliable sources. 
We've seen this and thought OMG. People who rent cars from unknown, possibly not correctly insured companies on Craigslist. We've seen people show up in a 30 year old clunker that was broken down more than once.
Tip: Rent through reputable car rental companies. Read all of our cheap Hawaii car rental tips here. 
6. Hawaii vacation rentals without customer support.
If you book your Hawaii vacation rental with an individual, you may have little recourse when something goes wrong. We could write a Hawaii rip off report just about this frankly.
Tip: Book from a reliable island-based vacation rental company, or from Airbnb or VRBO, with their customer support. Choose a rental where there is someone you can count on when problems occur. Case in point, we recently were en route to a rental, when we could not get in touch with the owner. As we prepared to contact Airbnb, the owner finally got back to us. Disaster averted. 
7. Exorbitant parking fees. 
It just irks us to pay $35 to park if we can avoid it. It's good to check this out before your vacation, so parking fees don't come as a surprise. When it comes to avoiding them, we just make it a game, and the savings is just the frosting on the cake. In fact, it pays for the cake.
Tip: Last year we updated our popular post on free parking Waikiki. 
8. Extra car rental fees. 
These range from a bigger car (oh gosh, please not in Honolulu!), to insurance, to pre-paying gas. And to simply paying too much.
Tip: Check your own insurance coverage first. And recheck prices before your trip. Do you really want to pre-pay gas? It might work out, but it is more likely to be in the car rental company's favor. Researching this in advance could save you fifty percent on your car rental bill. 
9. Bank/ATM fees.
Even though you're still in the US, bank transactions can be a bad gotcha in Hawaii. So best to figure this out before leaving home as well.
For the most part, you won't find your mainland bank here, and you may not be able to find a network ATM that avoids fees. Our two major banks, Bank of Hawaii and First Hawaiian both assess significant fees if you use their ATM's, but aren't one of their customers.
Tip: Best bet is to get cash back at Hawaii grocery stores without paying an ATM fee. Also, use your bank's ATM finder to locate places in Hawaii that won't charge a fee. 
10. Prepaying for things you might not want or use.
Whether meals, activities, or flowers, it's not always possible to know in advance what you'll want when you are actually here.
Tip: Consider which things you really do need to book in advance. This is largely seasonally dependent. If you're here during June, July and at the holidays, pre-booking may be required. At other times, it generally is not. 
11. Choose your activities carefully.
Hawaii is all about great activities. But where you buy them and how much you pay is another matter.
Tip: Consider buying directly from the activity provider rather than going through a commissioned activity broker. Don't be afraid to ask for a discount. Check for online savings. And remember that on Oahu, we saved $144 each using the Go Oahu card. We made it a game and could not have had more fun! 
12. Extra WiFi/phone data charges.
Most Hawaii accommodations provide free WiFi. That's great.
Tip: Be sure you have enough data on your phone plan to cover the many uses you'll find for data when driving around Hawaii.
13. Getting a ticket on your cell phone.
Of course you can get a ticket when in your car. But did you know you can also get one when walking? It's true. Looking on your cell phone in a crosswalk can now result in a ticket in Honolulu.
Tip. Be sure to go hands-free on your cell phone while driving in Hawaii. Or better yet, let the passenger handle that. Distracted driving in Hawaii is an enormous problem resulting in untold accidents. No joke. 
14. Not getting the best price.
It is always fair game to ask politely for the most reasonable cost possible. Just like you do when it comes to Hawaii deals for airfares. Try to buy from the source for the most flexibility in this regard. Consider asking your hotel or vacation rental company when booking, if there are any specials.
Tip: Try negotiating accommodations and activities. Even car rentals have flexibility, so, again, make it a game, not a problem. And stay light-hearted. Courtesy always brings the best results. We've gotten so many perks this way!
We look forward to your Hawaii rip off report additions in comments below. Mahalo!
Disclosure: We receive a small commission on purchases from some of the links on Beat of Hawaii. These links cost you nothing and provide income necessary to offer our website to you. Mahalo! Privacy Policy and Disclosures.