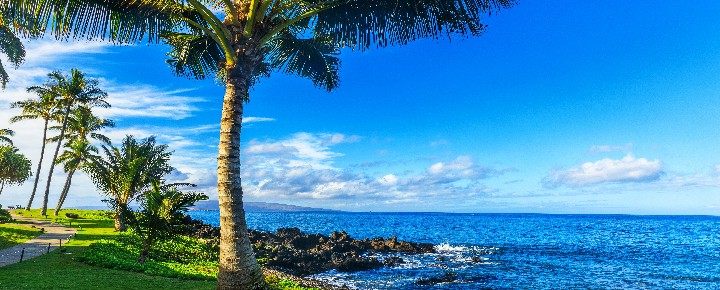 Hawaii began rebounding once again on November 1 and it has been very busy here in the islands. Plus there are new rules starting tomorrow. But now with the Omicron variant brewing, all bets are off as to what's next. And just where does Hawaii stand?
International travel seems set to return to a hold status; Hawaii looks better and busier.
It is not clear what is going to happen next in Hawaii if worries about the new variant continue to proliferate. Previously, we were anticipating some slowdown in Hawaii travel when international travel resumed, especially starting in spring, 2022. Plans for a fast rebound of international travel, however, now look grim.
Travelers and the airline industry appear ready to retrench and move their focus from international back to domestic leisure travel. In a word, Hawaii.
Hawaii is America's safe haven. 
Here in Hawaii, domestic travel has already nearly recovered to pre-COVID levels. That has been aided by the November 1 governor's edict telling visitors to resume Hawaii vacations and by tomorrow's upcoming relaxation of COVID rules statewide. As of December 1, many statewide regulations have been dropped, and each island is free to establish its own rules. Governor Ige said, "while we are moving forward with updated emergency measures, we must remain vigilant."
Regarding Omicron in Hawaii, Ige said, "Hawaii has a robust surveillance system. Our State Laboratories Division has the capacity to conduct whole genomic sequencing to detect variants. We have not seen the omicron variant here in Hawaii as of this morning, but we are closely monitoring the situation and will identify the variant as early as possible should it show up here."
Hawaii travel remains relatively easy and predictable in spite of the somewhat cumbersome Safe Travels rules. Those provide an exemption to quarantine with either vaccination or 72-hour testing, per strict requirements.
Throughout COVID, Hawaii has had among the lowest rates in the nation, according to the CDC.
New rules start December 1 but seem certain to remain in flux.
Statewide restrictions on bars and restaurants will end tonight, as the governor repeals his executive order that sets restrictions. In Honolulu, there will be no capacity restrictions on businesses. Maui's mayor is still reviewing restriction changes. And today, Kauai announced new rules.
Kauai rules starting December. 
Beginning December 1, events and social gatherings can grow in size. These will now be permitted up to 100 persons outdoors or 40 persons indoors before special testing or vaccination requirements. Larger events will need to have an event coordinator to verify vaccination or testing within 24-hours. The county will no longer monitor those events.
Since each island can make its own rules, you can check the Oahu rules found here, Maui rules found here, and Big Island rules found here.
Safe Travels and mask mandates remain.
While many Hawaii COVID restrictions are being eased, the state has no plans to eliminate either the Safe Travels program or the all-island indoor mask mandate.
Hawaii cruises remain on hold too.
As we've mentioned previously, the state is not prepared to welcome the return of cruise ships to Hawaii ports for the time being. They could return early in 2022, although that is not certain. The Safe Travels program has never been adapted to cruise passengers, as will be required before ships can return.
Disclosure: We receive a small commission on purchases from some of the links on Beat of Hawaii. These links cost you nothing and provide income necessary to offer our website to you. Mahalo! Privacy Policy and Disclosures.