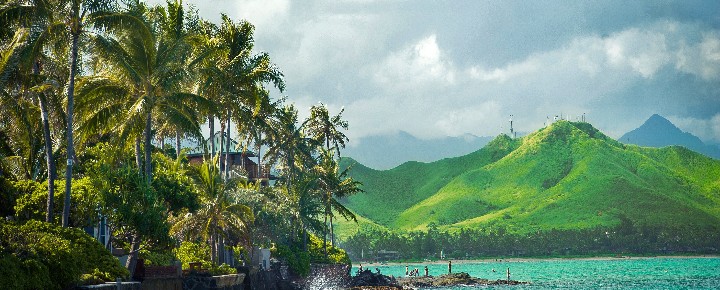 Last week the state updated its exemption for Hawaii travel after you recover from Covid. We've outlined all of the latest details below. As the Omicron variant sweeps across the US, many more people may choose this type of exemption.
We know you want to visit Hawaii, and while the rules associated with exemptions for testing or vaccination are well known, it may not be entirely clear what the rules are that will pertain to you if you have recovered. Here are some answers on what to do that are effective as of January 2022.
One of three exemptions is required to avoid quarantine. The state says that "travelers entering the State of Hawaii can apply for a limited exemption from the (reduced duration) mandatory 5-day self-quarantine. Under Governor Ige's emergency proclamation, all travelers entering the State of Hawaiʻi must self-quarantine for 5 days, unless they obtain an exemption."
All travelers (including those who have recovered from Covid) must also complete a Safe Travels form
Note that those traveling exclusively interisland are not subject to any quarantine or other Covid rules including these for recovery exemption.
You may complete the state's recovery exemption form found here. It uses a Google AppSheet which requires that you use a Google, Apple, Microsoft, or other login.
Hawaii Travel After You Recover From COVID | The Rules
There remains an exemption for people who have tested positive for Covid 19 and are recovered. Those who receive an exemption under this category are not required to have additional pre-travel or post-travel testing or proof of vaccination.
To be considered for this exemption, you must comply with ALL of the following:
1. Upload a copy of your POSITIVE Covid 19 test result. This test must be:
A molecular test (NAAT, PCR, or RNA). Antigen and antibody type tests are NOT acceptable for this exemption. Applications without the correct testing will be terminated and there will be no response from the state.
The test must be processed by a Clinical Laboratory Improvement Amendment (CLIA) certified lab OR Department of Defense Clinical Laboratory Improvement Program (CLIP) lab with the name and CLIA/CLIP number of the lab clearly printed on the result.
Hawaii Trusted Partner compliance is not required. Lab results for the recovered from Covid exemption do not need to be from a Trusted Partner laboratory. The results must only be from a CLIA or CLIP Certified laboratory.
The positive test must be dated no more than 90 days and no less than 11 days from your departure date for Hawaii. In other words, you must have recovered from Covid within the past 90 days for this exemption to apply to you.
In the event the laboratory name and CLIA/CLIP number are not listed directly on the lab result, you must obtain this information and include it in the "Details" section of the application.
2. Attach a signed letter from your medical provider:
The medical provider letter must be dated at least 10 days after the collection date of your positive result and no earlier than 14 days before your departure date for Hawaii.
It needs to be signed by your medical provider with your medical provider's name and National Provider Identifier (NPI) clearly listed.
The letter must be clearly written to indicate you are currently symptom-free, or, your symptoms have resolved, or you are cleared to travel. Note: the state says that "Release from isolation letters do not satisfy the requirements" as stated herein.
3. Additional Rules:
A confirmed departure date for Hawaii is required. The state does not accept tentative departure dates. You must have a confirmed departure date because your exemption is based on the date of your test result and medical provider letter. Should your travel date change subsequent to receiving this exemption, you must reapply for another exemption.
Processing of exemption requests after Arrival in Hawaii IS possible. The state says that "we can process exemption requests submitted after your arrival in Hawaii if you provide the documents required for this exemption. We do not accept medical provider letters dated after your departure date for Hawaii."
Returning residents' instructions. Use your return travel date as your arrival date, leave the departure date blank, and choose the location you are traveling from as your state of origin.
Processing time of 48 to 72-hours is required. "Applications are usually processed within 48 to 72 hours, but processing times can vary depending on volume, completeness, and thoroughness of your application. Submitting multiple applications for the same travel date will also increase processing time and/or result in a denial of your request."
Do not use Apple ID Private.relay.applied.com Private Email Addresses. The state says that "Applications with Apple ID private.relay.applied.com email addresses will not receive a response and will be closed. You must provide a valid email address with your application. When signing in with Apple ID, please select "Share My Email" when prompted."
Summary.
The state says that subject to change, you are clear to travel to Hawaii without further testing or quarantine. That is so long as you comply with its rules, have recovered within the last 90 days, have a positive test result from when you had COVID, and have a doctor's letter prior to travel.
These rules remain subject to further change. The recovery exemption application form is found here. It uses a Google AppSheet and requires that you use a Google, Apple, Microsoft, or other login.
If you have traveled to Hawaii with a COVID-19 recovery exemption, or plan to, how has this process worked for you?
Updated 1/14/22.
Disclosure: We receive a small commission on purchases from some of the links on Beat of Hawaii. These links cost you nothing and provide income necessary to offer our website to you. Mahalo! Privacy Policy and Disclosures.