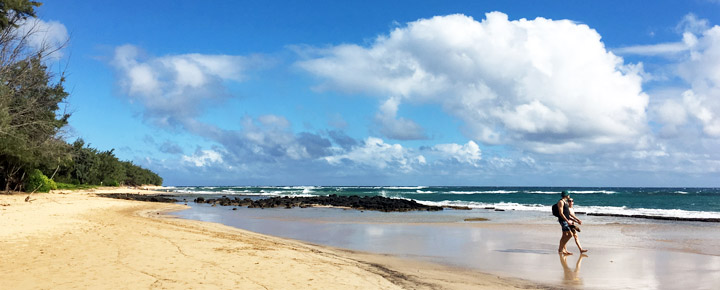 With the plethora of concerns and ruined Hawaii vacations you've been telling us about in hundreds of comments, here's a bit of good news for Thanksgiving week. This morning Hawaiian Airlines announced the expansion of their COVID pre-travel testing program that guarantees results within 36 hours. Also, this bellwether of all airlines that serve Hawaii has spoken out about their suggestions for clearing up the testing mess. As you know, tomorrow (November 24) the Hawaii quarantine rules change significantly.
Big problems with timely test results.
As a result of increased COVID cases on the US mainland, we are hearing many reports that some of the current Hawaii testing partners are unable to provide results within 72 hours of the transpacific flight. That will leave visitors unsure if they are arriving at a Hawaii vacation or a long-term jail (14-day quarantine) sentence.
Hawaiian Airlines, with the most at stake, is moving quickly.
The airline is not happy with the changes that eliminate the temporary quarantine of those who tested properly but arrive still awaiting results. They said, "We continue to believe there should be consideration shown for those travelers who do the right thing and — by no fault of their own — do not receive their test results in time."
Taking the bull by the horns, Hawaiian just announced Hawaii pre-travel tests for "its guests" at Los Angeles, Las Vegas, Portland, and Seattle.
Los Angeles is the newest location which opens today in Culver City, near LAX. That is in addition to the already open San Francisco location. These are in conjunction with their partner Worksite Labs. Tomorrow their third location will open in Las Vegas, which is in partnership with University Medical Center.
And lastly, Hawaiian has partnered with US BioTek for tests at one location in Portland and three in the Seattle area.
"We know how important it is for our guests to have convenient, reliable access to pre-travel tests and we are pleased to bring them more options in key gateway cities. Our dedicated testing locations guarantee guests will receive results within 36 hours of being tested, so they can meet the state's requirements and focus on enjoying safe travel." — Avi Mannis, Sr. VP.
The airline is also partnered with Vault Health for mail-in tests nationwide. Most of you have reported excellent results with Vault, and the major concerns (according to your comments) were about tests delayed in the shipping process.
For the Hawaiian Air options, see hawaiianairlines.com/covidtesting.
More reasonable costs ahead.
The current range of tests being offered in partnership with Hawaiian are priced from $90 to $105 per person.
Why hasn't temporary quarantine for those awaiting results worked?
The state has been unable to manage the 6-7% of arrivals who are in that group who are awaiting results. The new Hawaii Tourism CEO said, "This has been brought about by the number of people who have arrived with no test uploaded, test results pending. That segment of traveler has caused a tremendous amount of workload and a bottleneck in the system."
What about other airlines?
You can accurately say that as Hawaiian Airlines goes, so goes the state. So if this proceeds well as planned, and we certainly hope that is the case, you will see it expand to the other airlines. They all have so much at stake.
Will this travel update make you more inclined to visit Hawaii? Please share your comments.
Beat of Hawaii photo taken at Mahaulepu Beach on Kauai.
Disclosure: We receive a small commission on purchases from some of the links on Beat of Hawaii. These links cost you nothing and provide income necessary to offer our website to you. Mahalo! Privacy Policy and Disclosures.