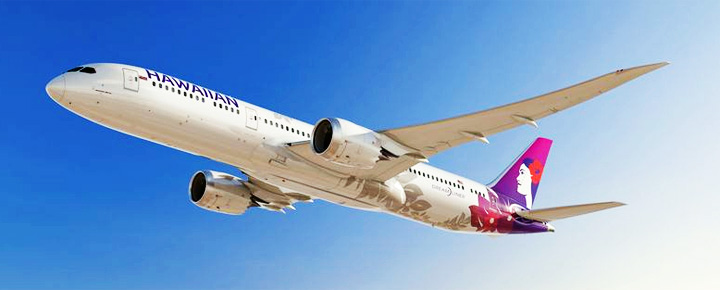 A new fleet of Hawaiian Airlines Boeing 787 Dreamliners is scheduled to arrive here in the islands next year. But now, the long-troubled airliner has had more bad news. Boeing said that some titanium parts had been improperly manufactured. Luckily for Hawaiian, the manufacturer will have some time to rework the problem before delivery.
Dreamliner components impacted in this latest issue include those that secure the floor beam in the fuselage, plus other parts. This also compounds a list of prior problems bringing scrutiny about Boeing's quality control.
Boeing is still struggling with multiple Dreamliner issues that stopped and started deliveries numerous times this year. Last year, the FAA said it was investigating manufacturing defects.
Hawaiian Airlines is still thrilled to receive 787s. 
Company CEO Peter Ingram said this summer, "the 787 remains the most advanced generation of new aircraft, incredibly fuel-efficient and environmentally-efficient, and it is destined to be the flagship of our (Hawaiian Airlines) network. We are still very excited to get it."
Hawaiian confirmed it will take delivery of the first two of ten confirmed 787 acquisitions late in 2022. Those are set to enter service in early 2023. There have been no updates on the remaining aircraft and when they will be delivered or enter service. Hawaiian has been closed-lipped about the routes where the Dreamliners will be deployed.
BOH: We believe the new fleet will be used for new London and Southeast Asia routes and their existing premium long-haul domestic routes, including JFK. The 787-9 variant, which Hawaiian will receive, is capable of distances up to 7,635 miles from Hawaii.
Our take on the 787 Dreamliner.
We continue to love the Dreamliner for its pleasant and spacious feel, larger electronic shade control windows, lower altitude pressurization, and general comfort.
See the new Hawaiian Airlines' Dreamliner here. 
Are you looking forward to the arrival of the new Dreamliner fleet?
Disclosure: We receive a small commission on purchases from some of the links on Beat of Hawaii. These links cost you nothing and provide income necessary to offer our website to you. Mahalo! Privacy Policy and Disclosures.