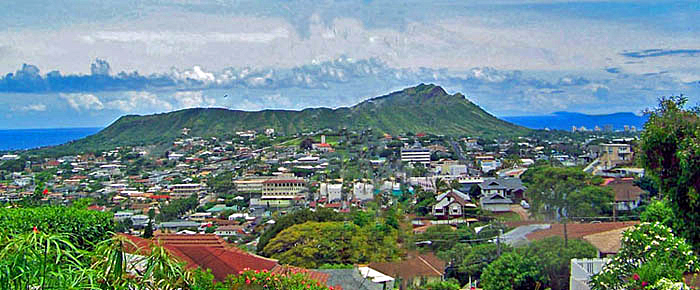 You may have been near the Kaimuki neighborhood many times without knowing it when you stopped at Leonard's Bakery for malasadas. Next time don't turn back towards Waikiki and drive 5 more minutes to this neighborhood jewel. Follow Kapahulu under the H1, and continue up Waialae to 8th Avenue. That's where the Kaimuki business district begins.
"Kaimuki reminds me of the old Hawaii in my dreams with its plantation style homes. It's familiar, even legendary to locals and often overlooked by visitors."
If you go you'll find a multifarious mix of older businesses and chic contemporary stores and eateries. The surroundings retain a historical charm waiting to be discovered.
Looking up to the heights you'll see homes stretching as far as the eye can see. The legend is that Menehunes built their ti root ovens here in the hillsides giving Kaimuki its name.
"Before leaving my car, I turn left up Sierra Drive and make my way to the top. I soon understand why King Kamehameha used Kaimuki as his lookout to watch approaching enemies from the ocean. Another monarch, King Kalakaua, used Kaimuki for peaceful purposes with his ostrich farm."
It's a spectacular view over Waikiki and I like the unique perspective of Diamond Head. Up here you may even spot your Aqua hotel in the distance. If you see rainbows over the Pacific, think of famed entertainer Israel Kamakawiwo`ole "IZ," who was raised here in Kaimuki.
At the end of the road is Lanipo trailhead. It's a strenuous 7 mile ridge hike rated one of Oahu's best. You can split the hike in half and go as far as "two summits." Right now I have a burning desire to shop and eat. My wheels are soon turned downhill.
Kaimuki is Best Explored on Foot
The storefronts don't do justice to the unique finds inside. Within a five block area I can find coffee bars, purchase every type of Hawaiian fabric, have my shoes fixed, take a yoga class, make art, buy crack seed in jars, find every bead on the planet, watch a foreign film at the Movie Museum, select some vegetables at an outdoor produce stand, look for imported clothing and design, find discounts at a second hand store and discover any sheet of music I want. That's just the tip of the Kaimuki experience.
And if you're looking for a discount on manicures and pedicures you've come to the right place; $20 for one and $30 for both at several locations. The most popular was Smiley Nails where patrons received massages while getting their nails done.
After a shopping workout it's time to eat.
It's not surprising that Kaimuki's name stands for something food related considering all the dining options available. You'll find bakeries and coffee bars, noodle shops to fine dining. The food and styles are simply as diverse as the owners and their patrons.
I decide on lunch at Town followed by Café Laufer for coffee and exquisite desserts simply too difficult to pass up. Next time I plan to try a completely different set of restaurants. There are so many choices that it will take many return visits before I run out.
A Sample of Landmark Businesses in Kaimuki
Queen Theater has sat at the top of Waialae Avenue for 75 years. It's been closed for the past 20 years and is on the list of national historic theaters. There is a grass roots effort underway to restore it as one of the few freestanding theaters remaining in Honolulu.
Kaimuki Dry Goods is the ultimate source of Hawaiian fabric, has been in business for nearly 80 years and is still thriving. I purchased a remnant for $6 and later reupholstered my dinette chairs in 30 minutes using a staple gun.
Crack Seed Store has glass jars filled with these Hawaii unique sweet salty delights. Ask for a sample to try.
Kaimuki Tips
Bring coins for parking or see if you score something free on a side street.
Bus Riders can take route 303 from Waikiki.
Most stores are located between 8th and 13th Avenues.
Explore side streets for hidden finds.
Best shopping days are Monday through Saturday.
Kids will have fun at the neighborhood park.
Disclosure: We receive a small commission on purchases from some of the links on Beat of Hawaii. These links cost you nothing and provide income necessary to offer our website to you. Mahalo! Privacy Policy and Disclosures.